Rwandan President Kagame Meets Ellen DeGeneres
TV host Ellen Degeneres and her wife Portia de Rossi are in Rwanda to oversee the initial stages of the construction of the Ellen DeGeneres Campus that will be dedicated to the late Dian Fossey's work in Rwanda. The facility will be dedicated to Fossey's work to help protect the critically endangered mountain gorillas in the Virunga Mountains. After meeting with President Kagame, Ellen DeGeneres and her delegation headed to the Kigali Genocide Memorial Site in Gisozi where they paid their respects to the over one million victims of the 1994 Genocide against the Tutsi.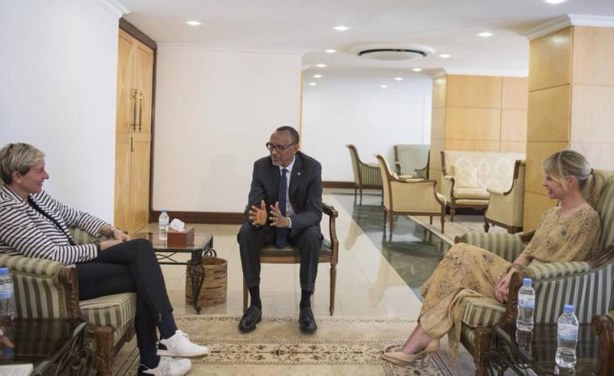 President Kagame meets with Ellen DeGeneres and Portia De Rossi who are on holiday in Rwanda and visited the site of the upcoming Ellen DeGeneres Campus of the Dian Fossey Gorilla Fund.
Video
Author:

Paul Kagame

Publisher:

Publication Date:

29 May 2018

President Kagame meets with Ellen DeGeneres, host of TheEllenShow and Portia De Rossi who are on holiday in Rwanda and visited the site of the ... see more »
InFocus
Popular U.S. talk show host Ellen DeGeneres has said that she will be coming to Rwanda to kickstart the building of a gorilla research centre. The facility will be dedicated to ... Read more »