Buhari's Stance on MKO Abiola Election Faces Legal Hurdles
President Muhammadu Buhari's decision to posthumously confer the highest honour in the country to the acclaimed winner of the annulled June 12, 1993, presidential election, Chief M.K.O. Abiola, has continued to generate ripples within judicial circles. Some lawyers saying Buhari's action is illegal has opened the floor for a continuing legal debate. However, the Senate has resolved to take Buhari's declaration a step further by asking that the official result of the 1993 presidential election be announced. The election was annulled before final results were officially announced.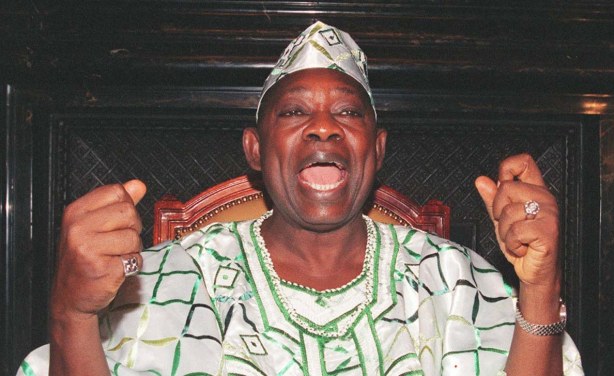 Chief M.K.O. Abiola.
Nigeria: Uproar As Senators, Reps Seek Declaration of June 12 Polls Results

Vanguard, 8 June 2018

President Muhammadu Buhari's decision to recognise Chief Moshood Abiola's position in the evolution of the country's democracy rebounded in the two chambers of the National… Read more »

Nigeria: Abiola - Senate Should Watch Before It Leaps

Vanguard, 8 June 2018

The enthusiasm of the Senate to lap up President Muhammadu Buhari's decision to honour Chief Moshood Abiola's role in the evolvement of the nation's democracy has again brought to… Read more »

Nigeria: June 12 As Democracy Day - Masterstroke or Mischief

Vanguard, 8 June 2018

Troubled here and there President Muhammadu Buhari shook the political landscape on Wednesday evening with his decision to bestow the nation's highest honour of Grand Commander of… Read more »

Nigeria: May 29 Remains Nigeria's Inauguration Day - Senate

Leadership, 8 June 2018

The Senate yesterday agreed with President Muhammadu Buhari that June 12 every year will now be celebrated as Democracy Day, but, however, insisted that May 29 would retain its… Read more »

Nigeria: Senate Wants MKO Abiola Recognised As Former President

Premium Times, 7 June 2018

The Nigerian Senate on Thursday resolved to take President Muhammadu Buhari's declaration a step further by asking that the official result of the June 12,1993 presidential… Read more »

Nigeria: PDP Says Buhari's Move, Hypocritical

Leadership, 8 June 2018

The Peoples Democratic Party (PDP) says the national honour, proposed to be conferred on the acclaimed winner of June 12, 1993, Chief Moshood K Abiola, by President Muhammadu… Read more »

Nigeria: June 12 - Buhari Orders Gazetting of Presidential Order

Vanguard, 8 June 2018

President Muhammadu Buhari has directed the Attorney-General of the Federation and Minister of Justice, Abubakar Malami, to immediately begin measures towards publishing his… Read more »

Nigeria: On Silver Jubilee of June 12, Nigeria Needs a New Civic Coalition for Democracy

Vanguard, 7 June 2018

25 years after the military nullified the outcome of Nigeria's democratic elections of June 12, 1993, the country, today led by another soldier from the past, marches into the… Read more »

Nigeria: June 12 Democracy Day - Buhari Stole Our Idea, Political Party Claims

Premium Times, 7 June 2018

The Action Peoples Party (APP) has accused President Muhammadu Buhari of hijacking its idea without credit in declaring June 12 as Democracy Day. Read more »

Nigeria: June 12 - Buhari Has Honoured Democracy, Says Tinubu

Vanguard, 8 June 2018

President Muhammadu Buhari has shown that he is not only a democrat but honours democracy, All Progressives Congress, APC leader, Asiwaju Bola Tinubu has said. Read more »

Nigeria: Fayose, APC Disagree Over Posthumous Award for Late MKO Abiola

This Day, 8 June 2018

The Ekiti State Governor, Ayodele Fayose, and the state chapter of the All Progressives Congress (APC) have praised President Muhammadu Buhari over the posthumous award of Grand… Read more »

Nigeria: Mixed Reactions Trail Buhari's Declaration of June 12 Democracy Day

This Day, 8 June 2018

Mixed reactions Thursday trailed the declaration of June 12 as Democracy Day in the country by President Muhammadu Buhari on Wednesday and his posthumous national honour on Chief… Read more »

Nigeria: A Dead Man Is Not a Citizen You Can't Confer GCFR On a Dead Man, Melaye Tells Buhari

Vanguard, 7 June 2018

Senator Dino Melaye, the senator representing Kogi West, has said that President Muhammdu Buhari can not confer the honour of Grand Commander of the Federal Republic (GCFR) on on a… Read more »

Nigeria: June 12 Recognition and Resurrection of a Watershed

Guardian, 8 June 2018

In a surprise and unexpected move last Wednesday, President Muhammadu Buhari declared June 12, the day in 1993 that a presidential election was won by billionaire politician,… Read more »

Nigeria: Group Hails President Buhari's Posthumous Awards On Abiola, Others

Vanguard, 7 June 2018

The Noble Women Movement for Buhari and Osinbajo (NWM4BO), a solidarity group, has commended President Muhammadu Buhari's decision to confer posthumous award of GCFR on MKO Abiola. Read more »

Nigeria: Senate Asks INEC to Declare June 12, 1993 Election Result

Vanguard, 7 June 2018

The Senate has asked the Independent National Electoral Commission (INEC) to announce the results of the June 12, 1993 presidential election. Read more »

Nigeria: Nigerians Begged a President in 1999 to Recognise June 12 but He Refused - Abiola-Castelo

Vanguard, 7 June 2018

Mrs Hafsat Abiola-Castelo, daughter of the presumed winner of the June 12, 1993 presidential election in Nigeria, has commended the Federal Government for declaring the day as the… Read more »

Nigeria: Announce June 12 Election Results, Senate Tells INEC

Guardian, 7 June 2018

Following the declaration of June 12 as Nigeria's Democracy Day in honour of Chief MKO Abiola, the Senate has asked the Independent National Electoral Commission (INEC) to announce… Read more »

Nigeria: MKO Abiola No Longer Nigerian, Cannot Be Made GCFR - Dino Melaye

Premium Times, 7 June 2018

Dino Melaye, the senator representing Kogi West, has cautioned President Muhammdu Buhari against breaching the constitution in his latest move of conferring the honour of Grand… Read more »

Nigeria: Buhari Directs Gazetting of Abiola, Gani Fawehinmi Awards

Premium Times, 7 June 2018

Following his declaration on Wednesday that henceforth June 12 be observed as Democracy Day in Nigeria and that some heroes of democracy be given national honours, President… Read more »

Nigeria: Abiola's Family Writes Buhari Over Award, June 12

Premium Times, 7 June 2018

The Abiola family has written to thank President Muhammadu Buhari for awarding the nation's highest honour to their patriarch, MKO Abiola, the presumed winner of the 1993 June 12… Read more »

Nigeria: Declare Abiola Winner of June 12 Election, Fayose Urges

Guardian, 8 June 2018

Governor Ayodele Fayose of Ekiti State yesterday asked President Muhammadu Buhari to declare the late M.K.O Abiola winner of the June 12 election. Read more »

Nigeria: Lawyers Divided Over Legality of Posthumous Award to Abiola

Vanguard, 7 June 2018

President Muhammadu Buhari's decision to posthumously confer the highest honour in the country to the acclaimed winner of the annulled June 12 1993 Presidential election, Chief… Read more »

Nigeria: Fayose Commends Buhari, Asks Him to Declare Abiola Winner of June 12 Poll

Vanguard, 7 June 2018

Ekiti State governor ,Mr. Ayo Fayose on Thursday commended President Mohammadu Buhari over his recognition of late Moshood Olawale Abiola (MKO), as the winner of the June 12, 1993… Read more »

Nigeria: APC Applauds Buhari for Declaring June 12 Nigeria's Democracy Day to Replace May 29

This Day, 8 June 2018

The All Progressives Congress (APC) in Ekiti State has commended President Muhammadu Buhari for honouring the late presumed winner of the June 12, 1993 presidential election, Chief… Read more »

Nigeria: June 12 - Declare Abiola President, Fayose Tells Buhari

Premium Times, 7 June 2018

The governor of Ekiti State, Ayo Fayose, has asked President Muhammadu Buhari to go all the way by declaring the results of the June 12, 1993 elections. Read more »

Nigeria: June 12 - Tinubu Commends Buhari for Honouring MKO Abiola

Premium Times, 8 June 2018

A former Lagos State governor, Bola Tinubu, has commended President Muhammdu for honouring Moshood Abiola. Read more »

Nigeria: Group Demands 'June 12' Be Taught in Nigerian Schools

Premium Times, 8 June 2018

The June 12 Movement on Thursday listed a string of demands it wants the Nigerian government to implement, including a request that a subject chronicling the events at that time be… Read more »
InFocus
President Muhammadu Buhari has directed that Democracy Day - which has been celebrated every May 29 for the past 18 years - should be moved to June 12 from 2019. June 12, 1993 was ... Read more »