Dressing Like Malema Sees Zimbabwe's Chamisa Taking Flak!
Opposition Movement for Democratic Change Alliance presidential candidate Nelson Chamisa has always been at the centre of controversy, never stopping at raising the bar and catching a spot in the country's news headlines every now and then - but mostly for the wrong reasons! This time around he has been accused of mimicking South Africa opposition leader Julius Malema's trademark dress code.
Photo Essay
Picture 1 of 8

MDC Alliance presidential candidate's security had a hard time trying to disperse supporters jostling for a picture with their leader Nelson Chamisa as they marched through the streets of Harare ... see more »
InFocus
From accusations of objectifying and denigrating women, to being forced by BBC HARDtalk's Stephen Sackur t Read more »

The Movement for Democratic Change staged a demonstration in Harare, in which MDC-T leader Nelson Chamisa presented a petition with ten demands to the Zimbabwe Electoral ... Read more »

Zimbabwean political party the National Patriotic Front which was aligned to former president Robert Mugabe, has endorsed opposition presidential candidate Nelson Chamisa for ... Read more »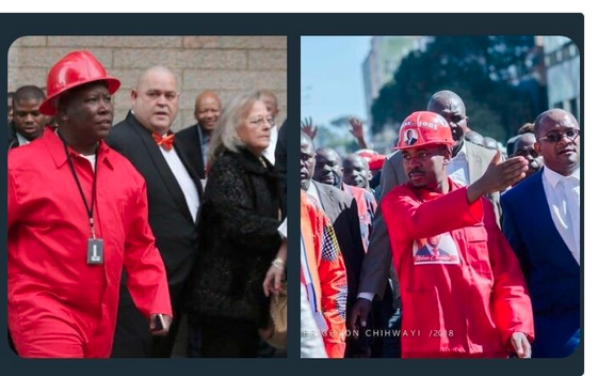 MDC Alliance presidential candidate Nelson Chamisa and Economic Freedom Fighters leader Julius Malema.