Behind Eritrea's Silence Over Ethiopia's Call for Peace
Eritrean government has not yet responded to Ethiopia's expression of readiness to unconditionally implement the Algiers agreement, which Eritrea repeatedly posed as a requisite to resume dialogue. Eritrea has long said the border issue justified restrictions on its citizens, including mandatory national service, a diversion of resources into the military, curtailed civil liberties and the uninterrupted rule of President Isaias Afwerki, the unelected leader of the country since 1993.
Ethiopia: Ethiopia's Unlucky Offer for Peace

Ethiopian Herald, 9 June 2018

The war between Ethiopia and Eritrea had left many painful vestiges over the people of the countries. But Ethiopia which was forced to enter in to the war can be said to have… Read more »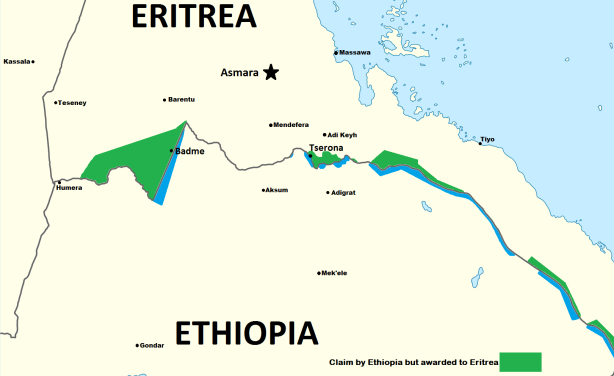 Map showing the disputed border between Ethiopia and Eritrea.
InFocus
Prime Minister Abiy Ahmed's government says it will fully accept and put into operation the Algiers accord, signed in 2000, that ended its war with Eritrea. A state of emergency ... Read more »