Peace Breakthrough - Ethiopia Ends 'Endless' Eritrea War
Prime Minister Abiy Ahmed's government says it will fully accept and put into operation the Algiers accord, signed in 2000, that ended its war with Eritrea. A state of emergency has also been lifted two months early. The decision on the peace deal means Ethiopia will have to cede disputed land it has occupied for nearly 20 years.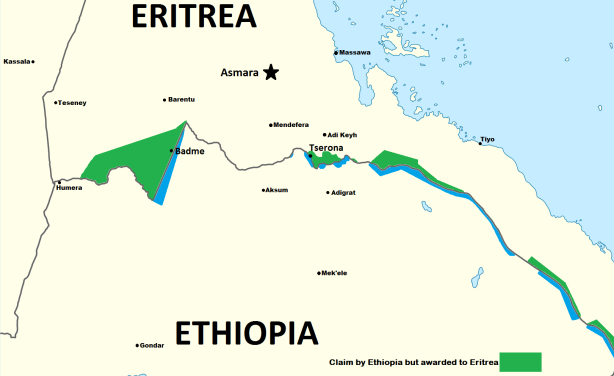 Map showing the disputed border between Ethiopia and Eritrea.
East Africa: Ethiopia's Peace Offer Comes With Strings Attached

Deutsche Welle, 6 June 2018

Ethiopia's new prime minister Abiy Ahmed wants to recognize a longstanding peace deal with Eritrea. That's good news after 20 years of hostility but it's too early to celebrate,… Read more »

East Africa: Ethiopia Accepts the Algiers Agreement

Addis Standard, 5 June 2018

After a day long meeting by the 36 Executive Committee members of the ruling EPRDF a statement released by the politburo said Ethiopia will fully accept the December 12, 2000… Read more »

East Africa: Ethiopia Accepts Peace Accord With Eritrea

Deutsche Welle, 5 June 2018

After decades of conflict and land claims, Ethiopia said it fully accepts the terms of a peace agreement with coastal Eritrea. It has also partially opened its economy to foreign… Read more »
InFocus
The state of emergency in effect since March 2018 was planned to last for six months. The council of ministers announced the current state of emergency, the second in a year and ... Read more »

The Ethiopian government says the fatalities last week are part of "ethnic tensions between Oromo and Somalis" over a longstanding border dispute. Read more »