All Sides in South Sudan Should 'Stop Fighting Now'
The American, British and Norwegian governments have said while they welcome the renewed commitment to a ceasefire, "all sides must stop fighting now".
Video
Author:

SABC Digital News

Publisher:

Publication Date:

3 July 2018

South African President Cyril Ramaphosa says the warring factions in South Sudan need to take practical steps in committing to the country's ceasefire ... see more »
InFocus
A ceasefire agreement signed by President Salva Kiir and rebels was violated just hours after it began, with both sides accusing the other of initiating attacks. Read more »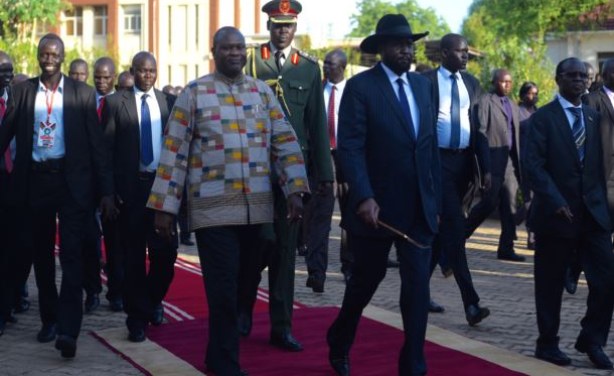 President Salva Kiir (R) and Riek Machar (L).
InFocus
Days after rivals Salva Kirr and Riek Machar signed a peace deal, the rebel movement's director of information and public relations, Mr Mabior Garang de Mabior, says they want ... Read more »

President Salva Kiir and rebel leader Riek Machar have signed an agreement to end the war after reaching compromises on a number of outstanding issues. Read more »