Is the Honeymoon Over for Magufuli?
There has been 41% decline in approval by citizens for President John Magufuli since he took office in 2016 when the rating stood at 96%, a report shows.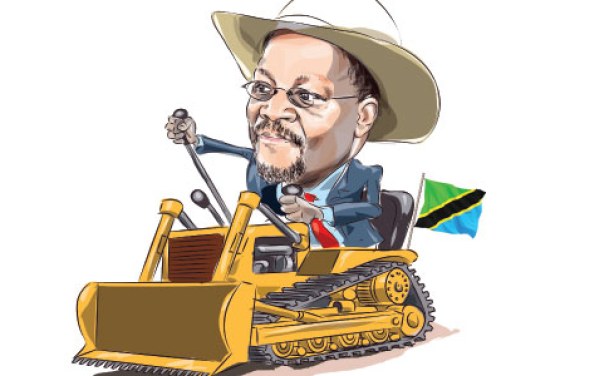 Dubbed the bulldozer, Tanzania under President John Magufuli tutelage is slowly reshaping how the future of regional mega projects will be determined (file photo).
Tanzania: Twaweza - Magufuli Approval Rating Plunges, But...

Citizen, 6 July 2018

President John Magufuli's approval rating has dropped from 71 per cent last year to 55 per cent, but he would be reelected if elections were held today, according to a new Twaweza… Read more »

Tanzania: Magufuli's Popularity Ratings Would Be Worse Had There Been Freedom of Expression, Claims Mbowe

Citizen, 5 July 2018

Chadema chairman Freeman Mbowe has said the decline in ratings of President John Magufuli's popularity only reflected hardships that citizens experience. Read more »

Tanzania: Magufuli Popularity Rating Falls

Citizen, 5 July 2018

President John Magufuli's popularity rating has plummeted by 21 per cent from 71 per cent in 2017 to 55 per cent this year, the latest Twaweza report shows. Read more »

Tanzania: Magufuli Popularity Rating Falls By 41% in the Last Two Years

Citizen, 5 July 2018

President John Magufuli's popularity rating has plummeted by 16 per cent from 71 per cent in 2017 to 55 per cent this year, the latest Twaweza report shows. Read more »