Nigeria, Niger Republic to Build Oil Refinery
The government has signed a Memorandum of Understanding with Niger Republic to build a hydrocarbon and pipeline refinery in Katsina State. The refinery is set to produce between 100,000 and 150,000 barrels of crude oil per day. It is projected to create over 2,500 direct and 10,000 indirect jobs.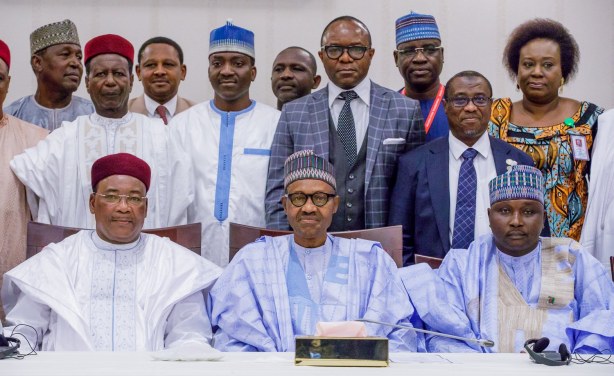 Nigeria and Niger signed an MoU for the Hydrocarbon Pipeline & Refinery Projects.
Nigeria: Katsina 150,000 Barrel Refinery to Be Completed in 3 Years - Minister

Guardian, 24 July 2018

The Minister of State for Petroleum Resources, Dr Ibe Kachikwu says the approved private sector driven Refinery in Mashi, Katsina State will be completed in 2021. Read more »

Nigeria: Nigeria Signs Pipeline, Refinery MoU With Niger Republic

Premium Times, 24 July 2018

Nigeria and the Republic of Niger have signed a Memorandum of Understanding (MoU), for the construction of a hydrocarbon pipeline and a petroleum refinery. Read more »

Nigeria: Nigeria, Niger Set Up Committees to Determine Feasibility of Refinery, Pipeline Projects

Vanguard, 25 July 2018

Nigeria and Niger Republic, yesterday, set up two committees to determine the feasibility of the planned 150,000 barrels per day refineries and pipeline projects to be jointly… Read more »

Nigeria: Nigeria, Niger Republic Sign Pact On Katsina Refinery

Daily Trust, 25 July 2018

The Federal Government yesterday signed a Memorandum of Understanding (MoU) with the Nigerien Government for the establishment of a refinery and hydrocarbon pipeline in Katsina… Read more »

Nigeria: Nigeria, Niger Republic Sign Pact for New Refinery in Katsina State

Guardian, 25 July 2018

President Muhammadu Buhari and his Nigerien counterpart, Mahamadou Issoufou, yesterday in Abuja signed a memorandum of understanding (MOU) for the establishment of a new refinery… Read more »

Nigeria: Nigeria, Niger Republic Sign MOU On $2bn Refinery Project

Leadership, 25 July 2018

The federal government yesterday took a bold step towards resolving the challenge posed by the continued importation of refined petroleum products as it signed a memorandum of… Read more »

Nigeria: Nigeria, Niger Sign Pact to Build Refinery in Katsina in 60 Days

This Day, 2 February 2018

Nigeria and the Niger Republic, will in 60 days time sign binding bilateral and technical agreements that will enable both countries develop and build a new petroleum refinery in a… Read more »

Nigeria: Nigeria, Niger Republic to Build Oil Refinery

Premium Times, 1 February 2018

The Federal government on Thursday announced plan to build an oil refinery by Nigeria and neighbouring Niger Republic. Read more »