Germany Wants Namibia Genocide Case Dismissed
Despite Germany's acknowledgement of the atrocities that occurred at the hands of its colonial authorities, it has repeatedly refused to pay direct reparations - and now wants the case concerning damages for the genocide of the 20th century dismissed. At least 100,000 Namibians were killed between 1904 and 1908 as a result of a mass extermination policy initiated by German colonial troops in South West Africa, now known as Namibia, when the territory was a German colony.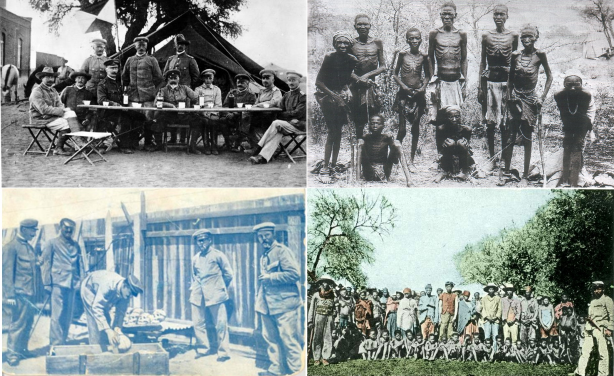 Left column: German soldiers Right: Namibian prisoners chained (file photo).
Namibia: MOU May Be Good Model On Genocide Reparations

New Era, 22 June 2018

Last week, the Ovaherero and Ovambanderu Council for Dialogue, 1904-1908, and the Botswana Society for Nama, Herero and Mbanderu signed a Memorandum of Understanding (MoU). Read more »

Namibia: Citizens Losing Patience Over German Slowness to Act On Genocide Claims

Deutsche Welle, 9 May 2018

Anger is building in Namibia over inaction by colonial-era power Germany, almost three years after talks began about an apology and reparations for the genocide of its indigenous… Read more »

Africa: The City of Hamburg Apologises for Its Role in African Genocide

This is Africa, 24 May 2018

In a recent reception in Hamburg, Germany, Senator Dr Carsten Brosda addressed the atrocities Germany had inflicted on German South and West Africa, as well as those perpetrated by… Read more »

Namibia: Nama Could Become Own Liberators On Genocide Reparations

Namibian, 28 May 2018

Chief of the Kai-||Khaun Nama clan, Petrus Kooper, has warned that the Nama will "become their own liberators" if the government continues to exclude them from the genocide… Read more »

Namibia: Negotiating the Perpetrators of Genocide

Namibian, 16 March 2018

Reference in this article is being made to the ongoing genocide negotiations between the German and Namibian governments. Read more »
InFocus
The start of the negotiations in late 2015 marked a turning point after more than a century of German denialism. But now tangible progress seems elusive, and a crisis may be ... Read more »

Germany might end up paying U.S.$91 Billion if the Namibian government and the Ovaherero Traditional Authority's demands succeed. The Ovaherero Traditional Authority's Secretary ... Read more »

Despite mounting pressure from civil society, Germany has so far failed to apologize for the 1906 extermination campaign against Namibians who resisted colonial rule, a delay that ... Read more »