Kenya Remembers Victims of the 1998 U.S. Embassy Attack
Twenty years ago, Al-Qaeda bombs outside the U.S. embassies in Kenya and Tanzania killed 250 and injured more than 5 000. As the memorial is held, most of the survivors of the terror attack say they are yet to be compensated as promised.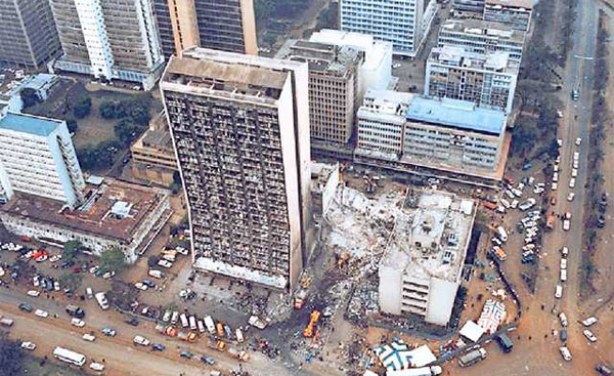 An aerial view of the aftermath of the bombing of the US Embassy in Nairobi on August 7, 1998.
East Africa: When Al-Qaida Brought Terror to East Africa

Deutsche Welle, 6 August 2018

Twenty years ago, Arab jihadists attacked US embassies in Nairobi and Dar es Salaam. Since then, terrorism has been taking root in East Africa. But the perpetrators and their aims… Read more »

Kenya: Victims Await Compensation 20 Years After U.S. Embassies Attack

Nation, 4 August 2018

Twenty years after the twin bombings of the US embassies in Nairobi and Dar es Salaam, Kenyans and Tanzanians affected by the attacks are still struggling to gain compensation… Read more »

Kenya: Sustain War Against Terror, Deter Youths' Recruitment - Kimani

Capital FM, 7 August 2018

Kenya's Special Eenvoy on Countering Violent Extremism, Martin Kimani, has called for sustained efforts in the war against terror and creation of opportunities to deter the youth… Read more »

Kenya: Country Commemorates 20 Years Since the U.S. Embassy Bombing

Capital FM, 7 August 2018

Security was beefed up across the country Tuesday as Kenya marked 20 years since the bombing of the US Embassy in Nairobi where more than 200 people were killed in the Al… Read more »
Video
Author:

DailyNation

Publisher:

Publication Date:

7 August 2018

For three months, nobody - apart from a few terrorists - knew that House Number 43 in New Runda estate was a bomb factory. Inside this secure ... see more »