Lawyer Takes Kenyan Govt to Hague Court Over Mau Evictions
Leonard Sigey Bett, a Nairobi-based lawyer has written to the International Criminal Court over the eviction of more than 40,000 people, destruction of property and torching of houses. He wants the government investigated for crimes against humanity allegedly committed during the eviction of families from Mau Forest.
Kenya: Mau Evictions - Hague Court Receives Petition Against the State

Nation, 22 August 2018

The International Criminal Court says it has received a petition from a Kenyan lawyer who wants the Kenyan government investigated for crimes against humanity allegedly committed… Read more »

Kenya: ICJ Wants Law Followed in Demolitions, Mau Evictions

Capital FM, 20 August 2018

The Kenyan Section of the International Commission of Jurists (ICJ Kenya) has criticised the manner in which the ongoing demolition of illegal structures and those near riparian… Read more »

Kenya: The Big Fish in the Mau Land Grab

Nation, 16 August 2018

Details of how adjudication sections in the Maasai Mau Forest were irregularly increased, leading to encroachment, can be now be revealed. Read more »

Kenya: 41,000 Kenyans Lose Fight for Mau Mau Millions in UK Court

Nation, 7 August 2018

Some 41,005 Kenyans who hoped to get compensation from Britain due to torture by the colonial government in the 1950s have been sent back empty-handed by a London court. Read more »

Kenya: New Twist in Mau Forest Evictions

Nation, 6 August 2018

The government has ordered the Nyayo Tea Zones (NTZ) Development Corporation to stop picking or cultivating tea in the 25-kilometre buffer zone even as the Mau Forest saga is… Read more »

Kenya: Mau Evictions Fiasco Returns to Haunt Uhuru, Ruto

Nation, 4 August 2018

When President Uhuru Kenyatta and his deputy William Ruto, then Kanu stalwarts, toured Narok South in 2005 to console families evicted from their farms in Maasai Mau, little did… Read more »

Kenya: How 40,000 Were Duped Into Settling in Mau Forest

Nation, 31 July 2018

Mr David Rotich sold his four acres of land in Mulot, now famous for its sim-swapping gangs, to settle in Sierra Leone, a village deep in the Mau Forest, named after the west… Read more »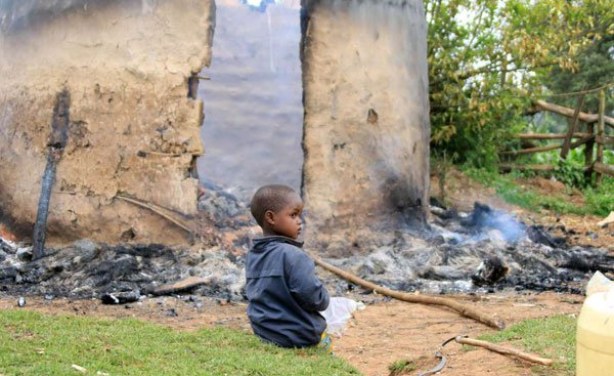 A child sits next to a house that was torched in Kipchoge area in Mau on July 26, 2018.
InFocus
The court has declined to issue orders stopping the evictions of illegal settlers in the Maasai Mau forest. So far the government has secured about 12,000 hectares of land, kicking ... Read more »