Mount Kigali to Get Quality Electricity
The substation has been upgraded with two transformers, replacing the old ones, which could not cope with the demand during peak hours, sometimes leading to power outages. It supplies electricity in Nyamirambo in Kigali and in neighbouring districts of Bugesera, Kamonyi and big parts of Muhanga District.
Rwanda: Upgrade on Mount Kigali Substation to Reduce Power Losses

New Times, 18 October 2018

Households which get electricity from Mount Kigali substation are set to start enjoying quality and stable electricity supply following an upgrade on the facility. Read more »

Rwanda: Rwanda and African Development Bank Sign €229 Million Loan Agreements to Finance Electricity Projects

African Development Bank, 17 October 2018

The Honorable Minister of Finance and Economic Planning Dr. Uzziel NDAGIJIMANA signed on behalf of the Government of Rwanda and Mrs. Martha PHIRI, Bank Group Country Manager for… Read more »

Rwanda: Govt, AfDB Sign U.S.$269 Million Loan to Increase Power Supply

New Times, 17 October 2018

The Government has borrowed $269 million (Rwf237 billion) from the African Development Bank (AfDB) to invest in sustainable, affordable and reliable electricity services. Read more »

Rwanda: African Development Bank Injects $266 Million Into Rwanda's Electricity Expansion Project

African Development Bank, 1 October 2018

The African Development Bank has approved a loan of $266 million to support Rwanda's program to improve electricity supply reliability and expand access to electricity as part of a… Read more »

Rwanda: Rwf17.6 Billion Power Substation Inaugurated

New Times, 28 September 2018

The quality of electricity supply in Kigali is likely to improve after a $20 million (Rwf17.6 billion) power substation facility was inaugurated yesterday in Ndera, Bumbogo sector… Read more »

Rwanda: Govt Targets 50% Electricity Rollout

New Times, 11 August 2018

The government has said that access to electricity will reach 51 per cent by the end of this fiscal year up, from the current 45 per cent. Read more »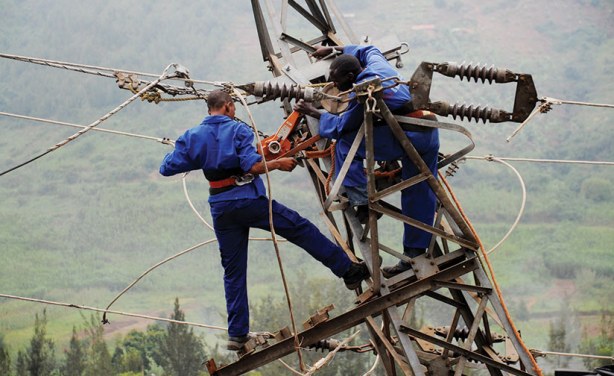 (file photo).