Are These the Most Influential Young Zimbabweans Under 40?
Sport Minister Kirsty Coventry, musician Jah Prayzah, controversial businessman Wicknell Chivayo and fast-rising dancehall singer Enzo Ishall have been named on the list of 100 most influential Zimbabweans released by The Gorindemabwe Frontier. The organisation claims that the project of recognising the most influential Zimbabweans is to raise the "next generation of heroes" in the country.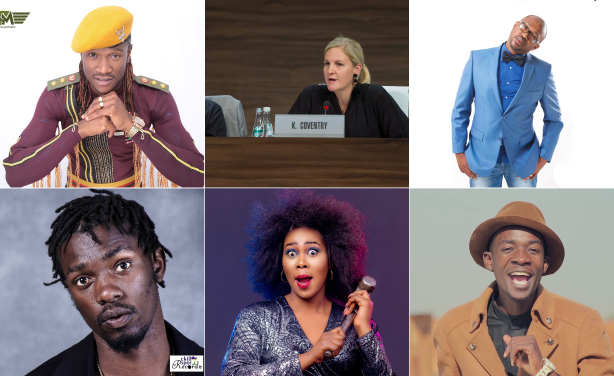 Jah Prayzah, Kirsty Coventry, Carl Joshua Ncube, Enzo Ishall, Madam Boss and Jah Signal.
Zimbabwe: All Eyes On Jah Prayzah As Album Launch Nears

The Herald, 31 October 2018

On Friday, many people will be talking about Jah Prayzah's album launch that takes place at Harare International Conference Centre (HICC). Read more »

Africa: 10 Inspirational Women You Might Want to Know

263Chat, 8 March 2018

1.Fadzayi Mahere practices as an advocate/barrister at the Harare Bar. Her main fields of practice include constitutional law, human rights law and administrative law. She also… Read more »

Zimbabwe: Jah Prayzah to Prove Point With 'Chitubu'

The Herald, 29 October 2018

Jah Prayzah is ready to prove a strong point with his upcoming album titled "Chitubu". Read more »

Zimbabwe: Kirsty Coventry Speaks On First Targets in Office

263Chat, 1 October 2018

The new Minister of Sport, Youth, Arts and Recreation, Kirsty Coventry has outlined her plans and first targets to be pursued in her first week in office. Read more »

Zimbabwe: Harare Businesman Chivayo Acquitted of Fraud

The Herald, 27 October 2018

Intratrek Zimbabwe Private Limited director Wicknell Chivayo is now a free man after a Harare magistrate cleared him of wrong doing in the fraud case he was being jointly charged… Read more »

Zimbabwe: 'Ambassador Ginimbi' - Masterstroke or Madness?

The Herald, 27 October 2018

The appointment of Zimbabwean businessman and socialite Genius Kadungure, better known as Ginimbi, as the official ambassador of Harare International Carnival recently saw people… Read more »