Opposition Plots Econet Boycott But Zimbabweans Aren't Buying It
Movement for Democratic Change politician Charlton Hwende is facing a backlash on social media after he tweeted, then deleted a post that appeared to suggest that the opposition party's supporters boycott Econet service provider. The tweet was in response to Econet founder Strive Masiyiwa's support for President Emmerson Mnangagwa - along with the business mogul's call for the removal of sanctions imposed on Zimbabwe by the United States.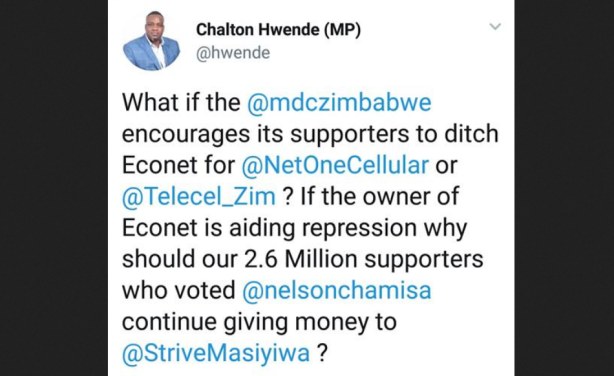 Chalton Hwende tweet.
Zimbabwe: Opposition Politician Hwende Beats Hasty Retreat

The Herald, 1 November 2018

Chairperson of the Parliamentary Portfolio Committee on Information Communication Technology, Postal and Courier Services and MDC-Alliance legislator for Kuwadzana East Mr Charlton… Read more »

Zimbabwe: Masiyiwa's Sanctions Call Excites Govt

263Chat, 31 October 2018

Business mogul and Econet Wireless founder, Strive Masiyiwa's call for the removal of economic sanctions imposed on Zimbabwe by the west has excited government with the Ministry of… Read more »
InFocus
Having moved to charm the world with reform pledges after taking over power, President Emmerson Mnangagwa's momentum was rocked by a disputed election victory and post-election ... Read more »