A New Minimum Wage - Too Much to Ask?
President Muhammadu Buhari held a closed-door meeting with some state governors over the issue of new national minimum wage. The meeting comes a week after the governors had an emergency meeting after which they announced they would not be able to pay the U.S.$83 proposed minimum wage demanded by labour unions.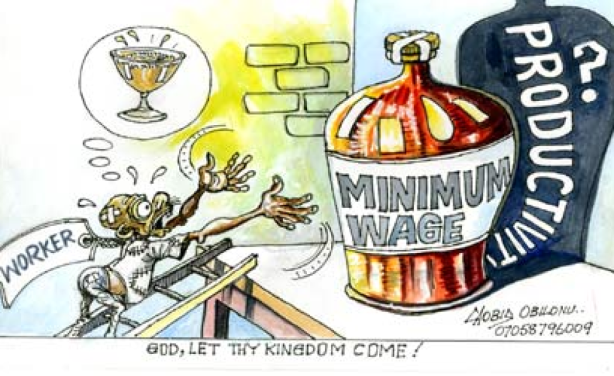 Minimum wage crisis.
InFocus
The 36 state governors have described the pay hike as "impracticable". They say that labour needs to agree to downsizing the workforce countrywide - or government needs to review ... Read more »

The National Industrial Court of Nigeria has ordered both the government and organised labour to submit a report of their negotiations on the disputes over the new minimum wage by ... Read more »

President Muhammadu Buhari has endorsed the new national minimum wage of U.S.$83 proposed by the Tripartite Committee on National Minimum Wage. Buhari has also promised to send a ... Read more »