Festive Cheer In Short Supply for Zimbabweans This Year
Ordinary Zimbabweans face a bleak festive season as the economic situation is marred by worsening cash shortages and basic commodity shortages. Some civil servants have already been paid without their annual bonus, despite a commitment by government to "do something that will be a thank you to those who have worked so hard through the year".
Zimbabwe: Workers Union Demands Better Wages

New Zimbabwe, 20 November 2018

The Commercial Workers Union of Zimbabwe (CWUZ) has placed a demand to employers to peg their members' salaries at the current poverty datum line (PDL) of $670. Read more »

Zimbabwe: Government Mum On Civil Servants' Bonuses

New Zimbabwe, 21 November 2018

Government employed nurses received their November salaries last week without the 13th cheque annual bonus despite a commitment by Treasury to "do something that will be a thank… Read more »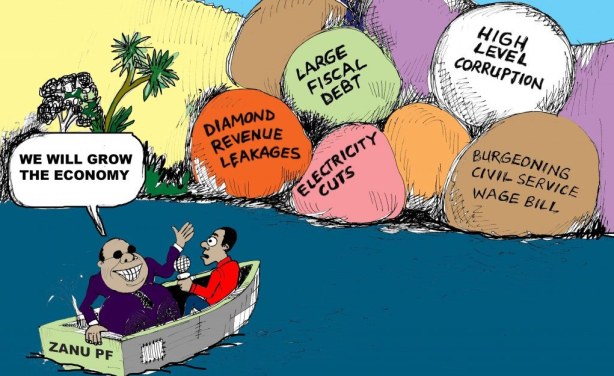 ...
Zimbabwe: Brace for 300% School Uniform Price Hikes - Industry Minister

New Zimbabwe, 20 November 2018

ZIMBABWEANS should brace for a massive 300 percent price hike on school uniforms next year, industry minister Mangaliso Ndlovu has warned. Read more »

Zimbabwe: Govt Assures Civil Servants of Bonus

The Herald, 9 November 2018

Finance and Economic Development Minister Professor Mthuli Ncube yesterday assured civil servants of a bonus incentive for 2018 whose finer details would be clarified in due course… Read more »

Zimbabwe: Austerity Measures Set to Hit Hard Civil Servants

Zimbabwe Independent, 16 November 2018

A raft of austerity measures government is mulling, which will, among other outcomes, lead to massive retrenchment, will hit civil servants hard and is contrary to President… Read more »

Zimbabwe: Civil Servants Demand Pay in U.S. Dollars

The Herald, 7 November 2018

CIVIL servants have demanded salaries in United States dollars following the price increases and the rejection of the bond note and electronic transfers by some shop owners and… Read more »

Zimbabwe: Fed-Up Teachers to Down Tools, Stage Protest in Harare

New Zimbabwe, 5 November 2018

TEACHERS are this week plotting industrial action and street protests to register their discontent with a government they see as unresponsive to their concerns. Read more »
InFocus
Exactly a year on since the military takeover that ousted former president Robert Mugabe, the evidence speaks for itself - President Emmerson Mnangagwa is tied on trying to Read more »

Women who are pregnant less than a year into their employment are not entitled to the mandatory 98 days of maternity leave on full salary, Justice Minister Ziyambi Ziyambi has ... Read more »

President Emmerson Mnangagwa says Zimbabwe will undergo a "painful" reform process to achieve transformation and modernisation of the economy. In an article published in the ... Read more »