United States Envoy Makes Second Visit to Africa
The United States Assistant Secretary for the Bureau of African Affairs Tibor Nagy is set to make a second visit to the continent, this time travelling to Ethiopia, Djibouti, Eritrea and Kenya. A State Department media note says that Nagy will focus on promoting stronger trade and commercial ties between the U.S. and Africa. He will end his November 27 to December 8 trip with a visit to Germany.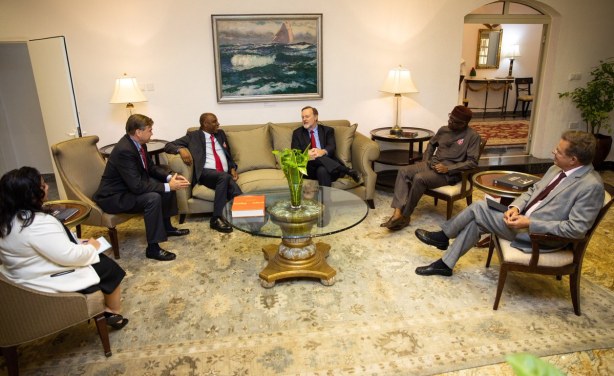 Assistant Secretary for State for African Affairs Tibor Nagy on his previous visit to Africa, meeting with Nigerian electoral officials and politicians on November 8, 2018.
Africa: Assistant Secretary Nagy Travels to Ethiopia, Djibouti, Eritrea, Kenya, and Germany

State Department, 21 November 2018

Assistant Secretary for the Bureau of African Affairs Tibor P. Nagy will travel to Ethiopia, Djibouti, Eritrea, Kenya, and Germany from November 27 to December 8, 2018. Read more »

East Africa: U.S. Assistant Secretary to Visit Ethiopia, Djibouti, Eritrea, Kenya

ENA, 22 November 2018

U.S.Assistant Secretary for the Bureau of African Affairs Tibor P. Nagy will travel to Ethiopia, Djibouti, Eritrea, Kenya, and Germany from November 27 to December 8, 2018,… Read more »

Africa: What Is the U.S. Up To On The Continent?

Deutsche Welle, 10 November 2018

DW's Asumpta Lattus spoke to Brian T. Neubert, the director of the US State Department's Johannesburg-based Africa Regional Media Hub about the state of US-Africa relations. Read more »
InFocus
For two decades Eritrea has been best known for its obstinate self-isolation and its repeated attempts to destabilise its neighbours. But recent Ethiopian-led overtures offer a ... Read more »

Assistant Secretary for the Bureau of African Affairs Tibor Nagy is making his first visit to Africa, and will travel to Togo, Guinea, Mali, and Nigeria. Read more »