Court Ruling on Mining a Key Moment in South African Land Debate
"We will never stop fighting against the mining. It will take away our land," said Xolobeni community member Siyabonga Ndovela after the North Gauteng High Court ruled that the Department of Mineral Resources has to obtain consent from communities before granting mining rights to companies.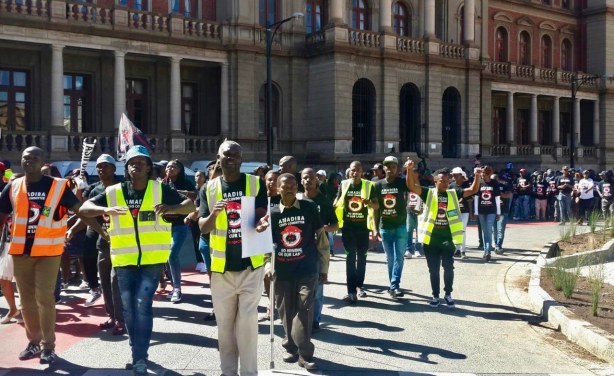 Residents of mining communities picketed outside the Pretoria High Court in April in support of the Right To Say No to Mining Campaign (file photo).
South Africa: Xolobeni Judgment Is Vital to Land Debate

GroundUp, 23 November 2018

Gwede Mantashe is concerned about mining being halted, but the judgment is an incentive for the industry to change the way it operates Read more »

South Africa: 'We Will Never Stop Fighting Against the Mining' - Xolobeni Community After Court Victory

News24Wire, 22 November 2018

The Department of Mineral Resources says it has noted the North Gauteng High Court judgment which ruled that the Xolobeni community, which has been fighting against their land in… Read more »

South Africa: High Court Rules in Favour of Eastern Cape Community in Historic Mining Rights Case

News24Wire, 22 November 2018

The minister of mineral resources will have to obtain full and formal consent from the Xolobeni community prior to granting mining rights, the North Gauteng High Court ordered on… Read more »

South Africa: Ruling Against Mining Company a Victory for Marginalized Communities Across the Country

AI London, 23 November 2018

In response to the North Gauteng High Court's ruling that the government cannot issue a license for proposed titanium mining in Xolobeni without the consent of indigenous… Read more »

South Africa: Wild Coast Mine Blocked By Pretoria Court

GroundUp, 22 November 2018

Government and companies must obtain "full and informed" consent from communities before granting mining rights, says judge Read more »

South Africa: Mantashe Meets With Xolobeni Anti-Mining Activists

News24Wire, 18 November 2018

Mineral Resources Minister Gwede Mantashe on Sunday confirmed that he had met with a group concerned over mining developments in the Xolobeni region in the Eastern Cape. Read more »
InFocus
The Constitutional Court of South Africa has ruled in favour of communities arguing for a bigger say in mining decisions that affects their livelihood and places where they live. ... Read more »