Buhari Cancels Leave As Mark of Respect for Boko Haram Victims
President Muhammadu Buhari has called off a five-day break as a mark of respect for the victims of the insurgents' attacks across the country. Buhari had planned to spend time at his country home at Daura in Katsina State from November 27 to December 2. The cancellation of the trip will enable the president to continue his ongoing meetings and consultations with relevant security and intelligence community aimed at addressing the nation's security challenges.
Nigeria: President Buhari Cancels 'Casual Leave'

Premium Times, 27 November 2018

President Muhammadu Buhari has cancelled his planned five-day "casual leave" as a mark of respect for victims of Boko Haram attacks across the battlefields in the North-east zone… Read more »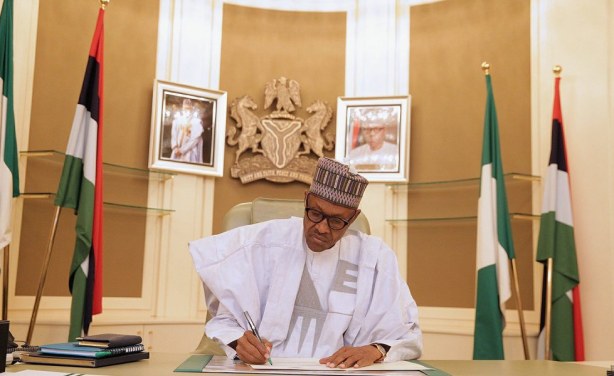 President Muhammadu Buhari.
Nigeria: Buhari Cancelled Private Visit to Daura, Not Casual Leave, Says Presidency

This Day, 27 November 2018

The presidency has reacted to media reports that President Muhammadu Buhari cancelled a planned casual leave to Daura, his hometown, explaining that what was cancelled was a… Read more »

Nigeria: Femi Adesina Lied About Military Not Releasing Casualty Figures

Guardian, 27 November 2018

The claims of the Special Adviser to Nigeria's President Muhammadu Buhari on Media and Publicity, Femi Adesina, that the military of countries does not or rarely release casualty… Read more »

Nigeria: Buhari Takes Fight to Boko Haram, Visits Troops in Borno

This Day, 28 November 2018

In an apparent effort to boost the morale of soldiers fighting Boko Haram in the North-east, President Muhammadu Buhari yesterday called off his five-day casual leave as a mark of… Read more »

Nigeria: Metele Boko Haram Attacks - Reps to Probe Military Spending

Premium Times, 27 November 2018

The House of Representatives has resolved to constitute an ad-hoc committee to investigate the utilisation of all funds appropriated for the Nigerian armed forces. Read more »
InFocus
At least 100 soldiers were killed when Boko Haram militant group targeted the army base in Metele. President Muhammadu Buhari has expressed "deep shock" and pledged "all the needed ... Read more »

An anti-corruption group, Socio-Economic Rights and Accountability Project; civil society groups and the opposition parties under the aegis of the Coalition of United Political ... Read more »