Uganda's Gold Sector Losing Millions Through Illicit Trade
To stop illicit gold trading in Uganda the government's new mining policy will streamline mining activities, enforce transparency and improve the safety records in mines. According to the government's audit report for the financial year 2016/17, the country lost over U.S. $16.95 million in undeclared royalties in the exportation and importation of gold in 2016/2017. A number of the companies including Africa Gold Refinery are under investigation on claims of money laundering, under-declaring, tax evasion and flouting registration.
Uganda: How Illicit Trade Is Affecting Gold Sector

Monitor, 7 January 2019

While anti-graft organisations including the Inspectorate of Government and Ethics ministry deal with corruption-related cases, there is less scrutiny on a far more sophisticated… Read more »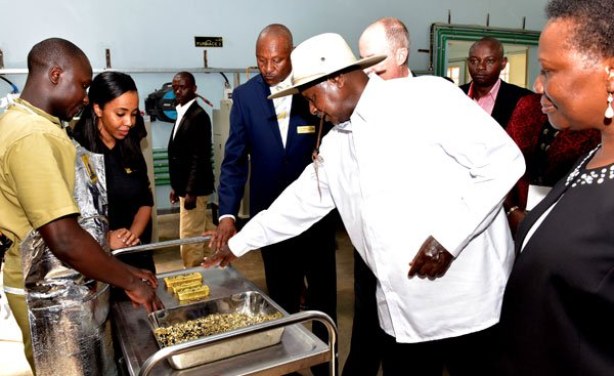 President Museveni during a tour of the African Gold Refinery in Entebbe on February 20, 2017.
InFocus
At the youth day celebrations in the Kasanda district where thousands of artisanal and small-scale gold miners were evicted in August 2017, President Yoweri Museveni said the ... Read more »