Has Tunisia's Govt Turned Its Back on the Revolution's Martyrs?
As the country commemorates the eighth anniversary of an uprising which saw revolution spread across the Arab world, the families of those who sacrificed and died for change have been ignored by the government, writes Tunis Afrique Presse. This follows protests that erupted in December 2018 when a 32-year-old journalist set himself on fire in a call for revolt after he expressed his frustration at unemployment and the unfulfilled promises of Tunisia's Arab Spring revolution.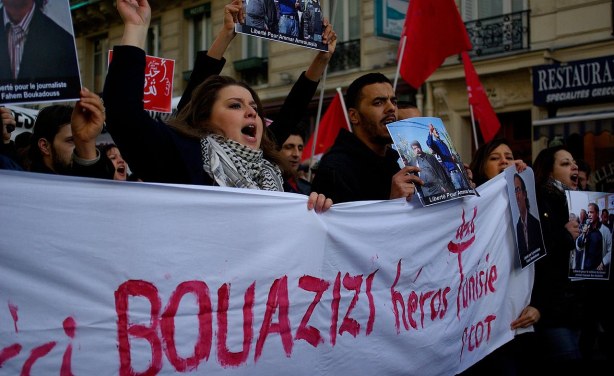 A French protest in support of Mohamed Bouazizi, "Hero of Tunisia" (file photo).
InFocus
The government has announced a package of social reforms aimed at improving care for the needy and increasing access to health care following a wave of anti-austerity protests. Read more »

The Cabinet chosen by Prime Minister-designate Ali Larayedh has won the approval of the majority of the National Constituent Assembly, days after hundreds of protesters criticised ... Read more »

The Tunisian government announced on its Facebook page that protests would henceforth be banned on Avenue Habib Bourguiba. The street is symbolic to many Tunisians due to the ... Read more »