Secretary in South African State Capture Inquiry Tied to Scandal
Former Bosasa chief, Angelo Agrizzi, has alleged that Khotso De Wee was paid an undisclosed amount of cash monthly by Bosasa during 2008 in return for a U.S.$43 million contract awarded by the department of justice and constitutional development. The Zondo Commission of Inquiry was established to probe allegations of corruption and fraud in the public sector.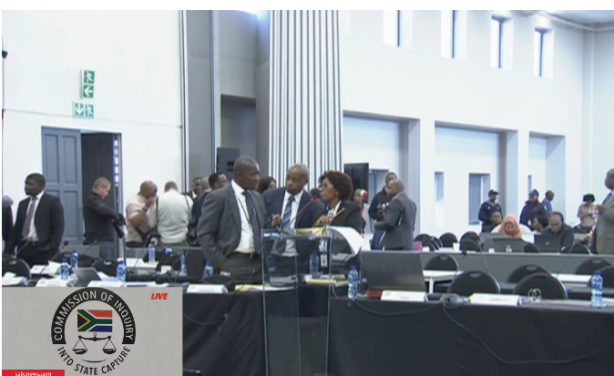 Video screenshot of the Zondo Commission of Inquiry (file photo).
South Africa: Zondo Commission Secretary On 'Special Leave' While Bosasa Bribery Allegations Are Investigated

News24Wire, 18 January 2019

The secretary to the judicial commission of inquiry into state capture, Dr Khotso de Wee, has been placed on special leave pending the outcome of an investigation into allegations… Read more »

South Africa: State Capture Commission Secretary Tied to Bosasa Corruption?

News24Wire, 18 January 2019

The secretary of the state capture commission of inquiry, Dr Khotso de Wee, is implicated in testimony before the selfsame commission by former Bosasa top boss, Angelo Agrizzi. Read more »

South Africa: Minister Denies 'Incorrect, False' Testimony at State Capture Commission

SAnews.gov.za, 18 January 2019

International Relations and Cooperation Minister Lindiwe Sisulu's office has dismissed Angelo Agrizzi's claim that the Minister was among the directors of Dyambu Holdings - the… Read more »

South Africa: #StateCaptureInquiry - Agrizzi's Testimony Postponed Over 'Security Issue'

News24Wire, 17 January 2019

Deputy chief justice Raymond Zondo adjourned hearings of the commission of inquiry into state capture on Thursday afternoon raising security concerns. Read more »

South Africa: State Capture Inquiry - Bosasa CEO Emerges As 'Kingpin of Bribes', 'Corruption'

News24Wire, 17 January 2019

Bosasa CEO Gavin Watson emerged as the absolute kingpin in the Bosasa empire of bribes, intimidation and cold hard cash at the state capture commission of inquiry in Johannesburg. Read more »
InFocus
Former Bosasa chief operations officer, Angelo Agrizzi, has started giving evidence at the Zondo Commission of Inquiry, which is investigating allegations of corruption and fraud ... Read more »