'Nine Wasted Years' from South Africa's Zuma Worth 'Forgiveness'?
A sermon at the Apostolic Faith Mission River of Life in Soshanguve heard by Julius Malema has moved the Economic Freedom Fighters leader to forgive former president Jacob Zuma. This contrasts comments made by President Cyril Ramaphosa who described Zuma's administration as "nine lost years" during a visit to Davos for the World Economic Forum.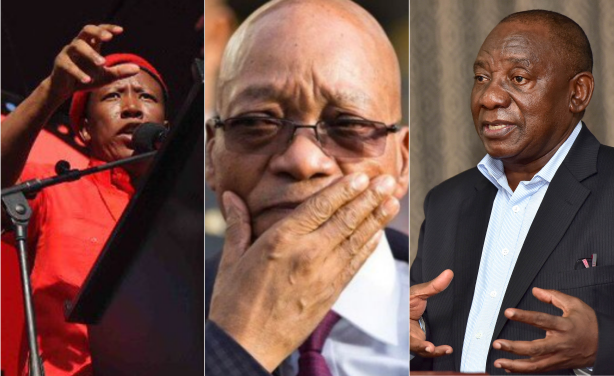 Left: Economic Freedom Fighters leader Julius Malema. Centre: Former president Jacob Zuma. Right: President Cyril Ramaphosa.
InFocus
Heavy on symbolism, the joint venture between Ramaphosa and Zuma at the African National Congress' 107th birthday celebrations was choreographed to hit all the right notes, writes ... Read more »