Fraud-Accused Prophet Bushiri Faces Uncertain Future
Shepherd Bushiri and his wife Mary Bushiri were arrested by the Hawks on charges of fraud and money laundering and have remained in police custody since then. They are expected to appear in court on February 6.
South Africa: Self-Proclaimed Prophet Bushiri Speaks After Being Granted Bail

News24Wire, 7 February 2019

Embattled pastor and self-proclaimed prophet Shepherd Bushiri on Wednesday broadcast a video to supporters in which he spoke of "immense orchestrated attacks" he had been subjected… Read more »

South Africa: Self-Proclaimed Prophet Shepherd Bushiri, Wife on R100 000 Bail

News24Wire, 6 February 2019

Self-Proclaimed prophet Shephered Bushiri, 35, and wife, Mary, have been granted bail of R100 000 each. Read more »

Malawi: Bushiri Is a Man of God, Ordained By God - Spokesperson

Nyasa Times, 5 February 2019

Calm, confident, majestic and stately could be words to describe how Prophet Shepherd Bushiri known as Major 1 and wife, holding hands, entered the Pretoria magistrate court for… Read more »

South Africa: Case Against Shepherd Bushiri and Wife Postponed

News24Wire, 4 February 2019

Self-proclaimed prophet Shepherd Bushiri and his wife made a very short court appearance in the Pretoria Commercial Crimes Court on Monday, before the case was postponed to allow… Read more »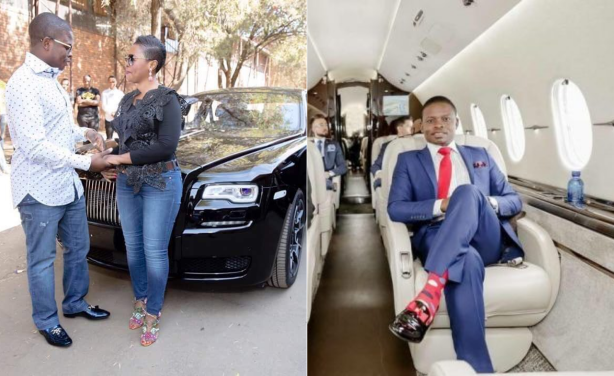 Left: Bushiri buys his wife a Rolls Royce. Right: Bushiri in his private jet.
InFocus
South Africa-based Malawian pastor and televangelist Shepherd Bushiri claims this footage is proof that he could "enter the spirit realm" to take a picture of a child who was not ... Read more »

The celebrity gospel preacher has set a African record with at least 100, 000 recorded congregants flocking to his church service. Read more »

Prophet Shepherd Bushiri has been named by the popular Drum Magazine of South Africa as a billionaire. Read more »