Experts Urge Govts to Focus on Prevention This World Cancer Day
Under the theme "I am and I Will" on this year's World Cancer Day, the World Health Organisation is urging nations to push for innovation on early detection, prevention, treatment and support of those who suffer from cancer. Cancer is one of the leading causes of mortality worldwide, in 2018 alone it was responsible for an estimated 9.6 million deaths.
Nigeria: It's World Cancer Day

Leadership, 4 February 2019

Cancer, as an ailment, is deservedly attracting the attention of not only health authorities but also individuals who have had encounters, directly or indirectly, with its mortal… Read more »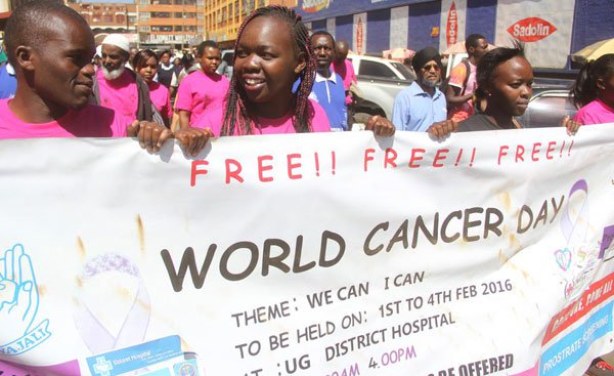 Residents of Eldoret mark World Cancer Day on February 4, 2016 (file photo).
Video
Author:

SABC Digital News

Publisher:

Publication Date:

4 February 2019

This is a day set aside by the United Nations....Many initiatives nationally and globally to mark this day and one of the is the Pink Drive. From the ... see more »
Kenya: World Cancer Day - Nairobians Share Tales of Watching Loved Ones Lose the Fight

Nairobi News, 4 February 2019

Nairobians commemorated the World Cancer Day by sharing emotional stories of how they lost loved ones to cancer. Read more »

Namibia: Call for Action On Early Cancer Detection

New Era, 4 February 2019

As Namibia and the rest of the world observe World Cancer Day today, there is an urgent need for action to increase early-stage cancer detection, screening and diagnosis to… Read more »

Nigeria: World Cancer Day - Ondo Governor's Wife Calls for Concerted Effort to Fight Scourge

Vanguard, 4 February 2019

The Wife of Ondo State Governor and Founder of Breast Cancer Association of Nigeria, (BRECAN) Mrs Betty Akeredolu, has called for concerted efforts to fight the scourge of cancer… Read more »

Kenya: Cancer Experts Want Govt to Focus On Prevention

Nation, 4 February 2019

Experts are warning that the battle against cancer would not be won if the country continues focusing on treatment at the expense of prevention. Read more »

Nigeria: World Cancer Day - Group Marches to Raise Awareness

Premium Times, 3 February 2019

Dozens of Nigerians on Saturday marched from Transcorp through the Federal Secretariat road in Abuja to raise awareness on the menace of cancer in the country. Read more »

South Africa: Take Part in World Cancer Day

SAnews.gov.za, 30 January 2018

The Cancer Association of South Africa (CANSA) has encouraged South African citizens to support the third year of the World Cancer Day campaign. Read more »