Africa's Debate Over Nuclear Power Comes to Nigeria
The debate over commissioning nuclear power stations, especially those built by Russia, has come to Nigeria. Precious C. Akanonu of the Abuja-based thinktank, the Centre for the Study of the Economies of Africa, writes that Nigeria has joined countries such as Egypt, Ghana, Ethiopia, Uganda and Zambia in signing agreements with the Russia State Atomic Energy Corporation to build nuclear technologies for peaceful purposes. She notes that while safety concerns have been eased in recent years, there are worries that countries could be faced with cost overruns and a massive burden when debt repayments kick in.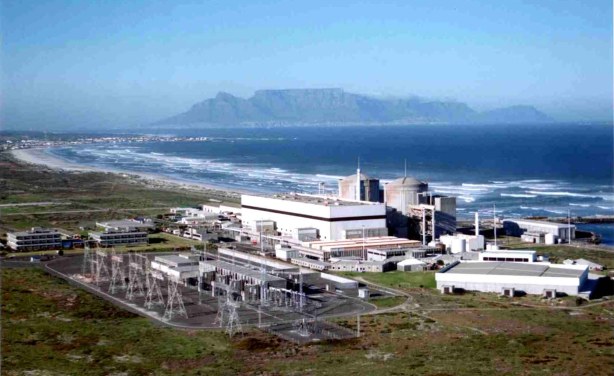 Africa's only nuclear power station so far, in South Africa. Egypt is on track to go nuclear next, and Nigeria is among a number of other African nations which have signed agreements with Russia.
Southern Africa: SADC On a Distinctive Spotlight for Russia

Fahamu, 8 November 2018

In 1991, the globally recognised anti-West Soviet propaganda machine collapsed and disappeared. Nonetheless, Russia and Southern African Development Community member states have… Read more »

Ethiopia: Ethiopia, Russia Enter New Frontier

EA Business, 5 April 2018

Ethiopia and Russia have reached an agreement to develop nuclear energy collaboratively according to reports from a number of reputable sources. Read more »

Ethiopia: Moscow Eyes Greater Engagement in Ethiopia's Energy Development

Ethiopian Herald, 10 March 2018

Russia seeks to enhance engagement in the development of nuclear energy facility in Ethiopia and resume daily flight from Addis Ababa to Moscow as part cementing the growing ties… Read more »

Egypt: Putin Terms Summit Talks With Sisi "Constructive"

Egypt Online, 12 December 2017

Russian president Vladimir Putin on Monday 11/12 /2017 held talks with President Abdel Fattah El Sisi at El Itihadiya palace "constructive and rich in substance". Read more »

Egypt: Sisi Approves Loan Agreement With Russia to Finance Egypt's Nuclear Plant

Egypt Online, 19 May 2016

President Abdel Fattah El Sisi issued a decree approving a 25-billion-dollar loan agreement between Egypt and Russia. Read more »

South Africa: Russia's Nuclear Deal Is Icy, but Its Relations With SA Are Not - Deputy Foreign Minister

Daily Maverick, 8 October 2018

Russia lost out when a change in leadership meant that the nuclear power stations deal with South Africa is on ice, at best. Still, Russian deputy foreign minister Mikhail Bogdanov… Read more »

South Africa: Court Blocks Govt's Nuclear Power Deals

GroundUp, 26 April 2017

Agreements with Russia, Korea and US have been scrapped. Read more »

Sudan: Minister of Electricity to Visit Russia

SNA, 12 March 2018

Khartoum, 12 - Mar, (SUNA) - The Minister of Water Resources and Electricity, Mutaz Musa, will visit Russia heading technical delegation, including Undersecretary of the Ministry ,… Read more »

Sudan: Sudan, Russia Signs Cooperation Agreement On Peaceful Use of Nuclear Energy

SNA, 22 May 2017

The Minister of Water Resources, Irrigation and Electricity, Dr. Muataz Musa has affirmed his ministry endeavor to enter the field of nuclear energy for peaceful uses in… Read more »

Uganda: Uganda, Russia Sign Nuclear Agreement

Monitor, 20 June 2017

Uganda and Russia yesterday signed a pact on development of uranium into nuclear power for "peaceful purposes." Read more »

Rwanda: Rwanda, Russia Agree on Peaceful Use of Atomic Energy

New Times, 5 December 2018

Rwanda and Russia have signed an inter-governmental cooperation agreement on the use of atomic energy for peaceful purposes, according to a statement released by the government. Read more »

Gabon: Gabonese and Sudanese Leaders Received By Putin in Russia

Fahamu, 21 July 2018

On 14 July 2018, Russian President Vladimir Putin warmly received two African leaders, Gabonese Ali Bongo Ondimba and Sudanese Omar al-Bashir, within the framework of the 2018 FIFA… Read more »