Nigeria Election Postponement - Who's to Blame?
The opposition Peoples Democratic Party's leader, Prince Uche Secondus, has warned that the party will not accept anything short of a well organised electoral process devoid of manipulation, harassment and intimidation of voters and the opposition - particularly members of the PDP. This comes after the Independent National Electoral Commission announced that elections would now be held on new dates - February 23 for presidential and National Assembly elections and March 9 for governorship and state assembly elections.
Nigeria: PDP Condemns Poll Shift, Blames APC

Premium Times, 16 February 2019

The national chairman of the Peoples Democratic Party (PDP), Uche Secondus, on Saturday condemned the postponement of the 2019 general elections by the Independent National… Read more »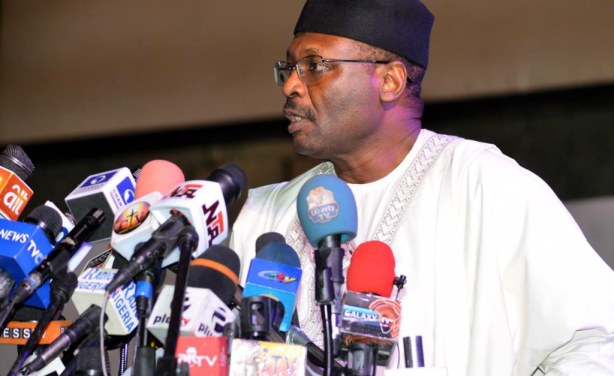 Independent National Electoral Commission (INEC) Chairman, Prof. Mahmood Yakubu, addressing a stakeholders meeting on 2019 General Elections postponement, in Abuja on Saturday .
Nigeria: Nigeria's Election Delay - Why, and What Next?

The Conversation Africa, 16 February 2019

Nigeria abruptly postponed its presidential election hours before polling was due to begin. The presidential and parliamentary votes have been rescheduled for 23 February while the… Read more »

Nigeria: Postponement Fuels Lack of Trust in Nigeria's Ability to Hold Fair Elections

The Conversation Africa, 16 February 2019

Nigeria has postponed its 2019 presidential elections. The presidential and parliamentary votes have been rescheduled for February 23rd and the gubernatorial, state assembly and… Read more »

Nigeria: President Blames Oppositon For Election Postponement

Premium Times, 16 February 2019

Representative of the Ekeremo Senatorial West, Sen. Heineken Lokpobri; President Muhamadu Buhari; and Former Gov. of Bayelsa State, Timiperi sylver, during the APC presidential… Read more »

Nigeria: PDP Kicks, Says Postponement of Polls, Ploy By Buhari to Cling to Power

This Day, 16 February 2019

The National Chairman of the Peoples Democratic Party (PDP), Prince Uche Secondus, has said that shoddy arrangement for the election by INEC was a deliberate pre- determined agenda… Read more »

Nigeria: Breaking - We Condemn INEC's Postponement of Nigeria's Election - APC

Vanguard, 16 February 2019

The All Progressives Congress, APC, has condemned the postponement of the general election by the Independent National Electoral Commission, INEC. Read more »

Nigeria: Buhari Campaign Condemns the Postponement of Elections

Guardian, 16 February 2019

Nigeria's President Muhammadu Buhari's Campaign Organisation said the postponement of the 2019 general election by Independent National Electoral Commission is "a huge… Read more »

Nigeria: PDP Rejects Election Postponement

Guardian, 16 February 2019

The National Chairman of the Peoples Democratic Party (PDP), Prince Uche Secondus, has said that shoddy arrangement for this election by the Independent National Electoral… Read more »

Nigeria: Opposition's Candidate Atiku Blames Buhari for Election Postponement

Premium Times, 16 February 2019

The Peoples Democratic Party presidential candidate, Atiku Abubakar, on Saturday accused President Muhammadu Buhari of plotting to disenfranchise Nigerians, moments after the… Read more »
InFocus
The announcement by the Electoral Commission chairman, Professor Mahmood Yakubu, at the commission's headquarters in Abuja came hours before Nigerians were slated to head to the ... Read more »