Alexandra Residents Gear Up for Protests Despite Heavy Rains
Authorities will be monitoring protest action by Alexandra residents who, despite the threat of heavy rains, plan to march to Sandton where demonstrations are expected to bring Africa's "Richest Square Mile" to a standstill.
South Africa: Rain Might Thwart Alex Protests, but JMPD Remains Ready

News24Wire, 8 April 2019

It remains unclear whether protests planned by residents of Alexandra would go ahead on Monday morning as heave rains continue to pour down in Johannesburg. Read more »

South Africa: Alexandra Residents Consider Taking Protests to Sandton to Get Mayor's Attention

News24Wire, 5 April 2019

Residents of Alexandra have vowed to set tyres and rubble alight in Sandton and other neighbouring suburbs if City of Johannesburg Mayor Herman Mashaba doesn't meet them soon. Read more »

South Africa: Alexandra Protest Temporarily Called Off

GroundUp, 4 April 2019

Following the shut down of Alexandra in Johannesburg on Wednesday, residents of the township intended to go to the the City of Johannesburg's Sandton offices to express their… Read more »

South Africa: 'I Will Be There. I Wonder If You Will Be' - Mashaba Challenges Ramaphosa to Accompany Him to Alex

News24Wire, 4 April 2019

Joburg Mayor Herman Mashaba has extended a challenge to President Cyril Ramaphosa, following the president's call for him to address angry Alexandra residents. Read more »

South Africa: Protests - Alexandra Under Total Shutdown

News24Wire, 3 April 2019

One of the South Africa's oldest townships, Alexandra near Sandton, Johannesburg, was shut down completely following protests on Wednesday morning. Read more »

South Africa: JPMD to Deploy Officers to Monitor #AlexTotalShutdown

News24Wire, 2 April 2019

While the threat of a total shutdown looms for Ward 105 of Alexandra on Wednesday, the Johannesburg Metro Police Department (JMPD) says it has not received a formal application for… Read more »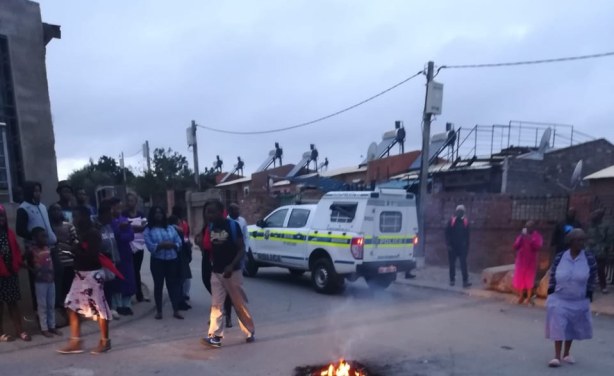 Service delivery protests in Alexandra.