Who Will Be Held Responsible for Xenophobia in South Africa?
Human Rights Watch and the African Diaspora Forum have called for the urgent investigation and prosecution of those responsible for a spate of attacks against migrants, most of them from Malawi, in Durban from March 25 to April 2. Dr Vusumuzi Sibanda, Chairperson of the African Diaspora Forum, spoke to allAfrica's Andre van Wyk to share his thoughts on the effects of xenophobia and what it means for South Africa.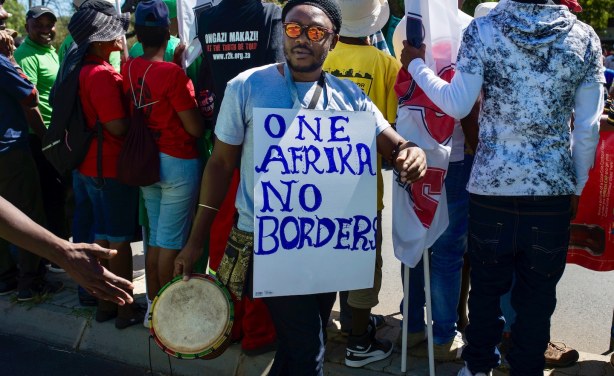 A man with a sign calling for the abolition of borders on the African continent is seen during the anti-xenophobia march in Johannesburg (file photo).
InFocus
Immigrants who own shops in the Eastern Cape town of Cofimvaba say the South African National Civic Organization, together with the Intsika Yethu Business Forum, have been forcing ... Read more »

Zimbabweans say they are living in fear of xenophobic attacks in South Africa after "reckless" statements made by President Cyril Ramaphosa at his party's election campaign rally. ... Read more »

About 100 foreign nationals, mostly from Malawi, have blamed government officials for a series of xenophobic attacks after they were forced to sleep in an open space near Sydenham ... Read more »