Is Kenya About to Recognise a Third Gender?
The government body that was set up to study the matter of people born with a combination of male and female biological characteristics has recommended stopping the practice of "corrective surgery" and the introduction of a third gender marker - I for Intersex - on official identity documents. The taskforce wants to include the new gender identity in the forms that will be used to carry out the national census set for August 2019.
Kenya: A Third Gender for the Country?

Deutsche Welle, 17 April 2019

Imagine you have male and female sexual organs and have to go to desperate lengths to keep this secret at your all-girls boarding school. Intersex Kenyans hope an end to the… Read more »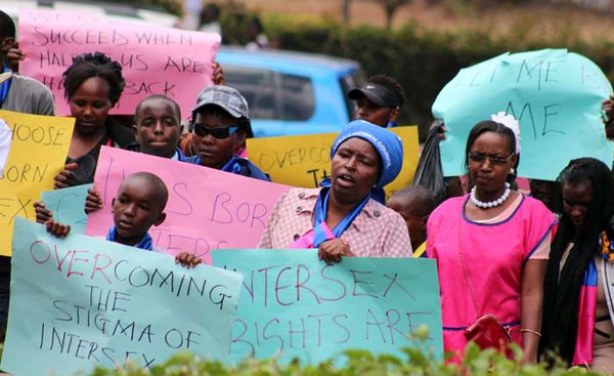 Demonstrators march through Nairobi streets to present a petition to parliament on October 26, 2016.
Kenya: Intersex 'Not Third Gender'

The Star, 9 December 2014

A plea by an intersex five-year to be given legal recognition, which would have introduced a third gender in the law books, has been denied. Read more »

Kenya: Gender Binary and Other Sexuality Terms You Need to Know - Part 2

Capital FM, 28 March 2019

2019 has shown us that just like us can grow and change in time. We might find ourselves saying the wrong things, asking the wrong questions, or even not saying anything because… Read more »

Kenya: Stop Discriminating Against Intersex Persons, Urges Nominated MP Mwaura

Nation, 26 October 2016

Nominated Member of Parliament Isaac Mwaura has called on the government to expedite the process of making necessary amendments to existing laws to facilitate legal recognition of… Read more »

Kenya: We Need a Legal Framework for Intersex Children

The Star, 10 December 2014

Right from the preamble, the Kenyan constitution makes reference to the family. We made a commitment to nurture and protect the well-being of the individual, the family,… Read more »

Kenya: Govt Takes Steps to Recognize Intersex People

VOA, 22 June 2018

Kenya is beginning to recognize people who identify as intersex, meaning they are born with genitalia, chromosomes or reproductive organs that don't fit the typical definitions of… Read more »

Kenya: Cisgender and Other Sexuality Terms You Need to Know - Part 1

Capital FM, 26 March 2019

"Sex" refers to the biological differences between men and women, like genitalia and genetic."Gender" is more difficult to define, but it can refer to the role of a male or female… Read more »
InFocus
The intersex community chairperson, James Karanja, says that their rights are violated by the registrar of births through failure to issue them with a birth certificate and is ... Read more »