Kenya Faces Worst Drought in Over 3 Decades
Over 541,000 children under the age of five are at risk of malnutrition at the moment, with the food shortage expected to get worse in the coming weeks. If the forecasted rainfall deficit comes to pass, it will lead to an increase in food insecurity and increase livestock movement, the Intergovernmental Authority on Development has warned.
Kenya: Kenya Faces Worst Drought in 38 Years

Nation, 18 April 2019

The dry weather witnessed in the long rains season from March to May will be the worst in 38 years, worsening food shortages, water scarcity and piling pressure on electricity… Read more »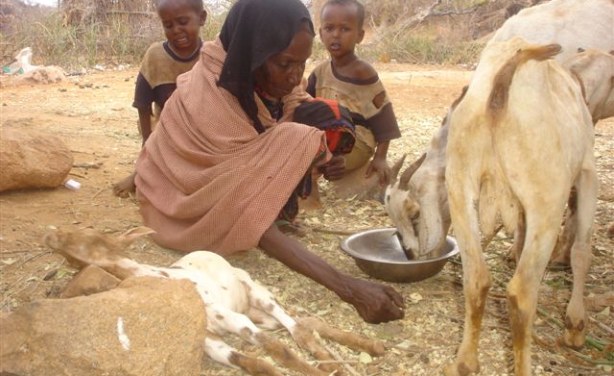 Prevalent drought in Mandera, in the northeast, has led to severe water shortage which has caused livestock deaths (file photo).
Kenya: Cabinet Warns Millers Against Hiking Flour Prices in Face of Drought

Capital FM, 18 April 2019

The Cabinet has asked millers not to take advantage of the ongoing drought situation to hike the price of maize flour, warning that stern actions will be taken against those who… Read more »

Kenya: Governors From 13 Drought-Hit Counties Want Crisis Declared National Disaster

Capital FM, 17 April 2019

Governors from 13 counties ravaged by the current drought now want President Uhuru Kenyatta to declare the crisis a national disaster. Read more »

Kenya: Drought Casts Doubt on Kenya's Economic Growth Prospects

East African, 13 April 2019

Strong household consumption, higher remittance inflows, and lower food prices charged the Kenyan economy to rebound in 2018, the World Bank said, even as it warned that delay in… Read more »

Kenya: Thousands in Wajir Starve as Drought Continues to Bite

Nation, 16 April 2019

Wajir County continues to be ravaged by drought which has affected thousands of people. Read more »

Kenya: Drought Pushes Dairy Processors to Milk Kenyans Dry

Nation, 13 April 2019

Processors have reduced the prices of raw milk despite a high demand for the commodity, which is in short supply because of the prolonged drought, leaving farmers angry and… Read more »

Kenya: Farmers Count Losses As Crops Wilt Due to Delayed Rains

Nation, 18 April 2019

Mzee Paul Sichere Mukhanji, a farmer in Shitaho village in Kakamega County, is a distraught man. Read more »

Kenya: We Can't See the Long Rains, Prolonged Drought Coming - Weatherman

Nairobi News, 16 April 2019

It is official. There will be no rains this season, the weatherman has finally said, painting a grim picture of the long-awaited rainy season that is now drawing close to an end. Read more »
InFocus
More than 1 million people are in need of food aid in Kenya's arid areas - and yet the country produced a Read more »

"No one has died as a result of the drought and we are working round the clock to ensure that no one dies of hunger," Deputy President William Ruto said, adding that the government ... Read more »