Nigerian Student Arrested for Drug Trafficking in Saudi Released
Zainab Aliyu who was arrested last year for alleged drug trafficking in Saudi Arabia has been freed. Aliyu was accused of smuggling 2,000 packs of a strong pain killer but the Nigerian authorities later found that the drugs had been planted in her luggage by a criminal gang.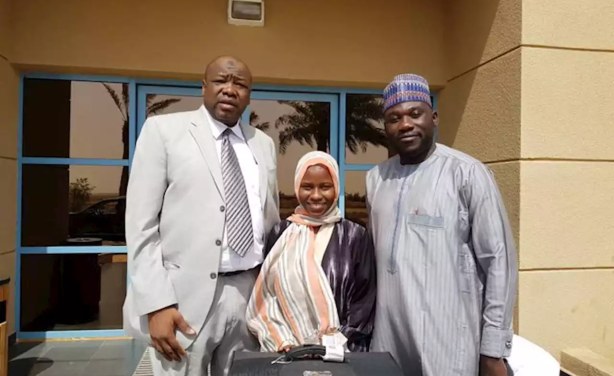 Zainab Aliyu with officials of the Nigerian Consulate in Jeddah, shortly after her release.
Nigeria: Alleged Drug Trafficking - Why Zainab Was Freed By Saudi Authorities

Daily Trust, 1 May 2019

Nigerian student, Zainab Habib Aliyu, was yesterday released by Saudi Arabian authorities four months after she was arrested over alleged drug trafficking, which carries capital… Read more »

Nigeria: Alleged Drug Trafficking - Saudi Arabia Releases Zainab From Detention

This Day, 30 April 2019

The Federal Government on Tuesday secured the release of a Nigerian student, Zainab Ibrahim, from detention in Saudi Arabia. Read more »

Nigeria: Govt Secures Release of Zainab Aliyu

Guardian, 30 April 2019

Zainab Aliyu has been released by the Saudi Arabia authorities after the Nigerian government established her innocence. Read more »

Nigeria: Detained Zainab Aliyu Released By Saudi Authorities - Official

Premium Times, 30 April 2019

The federal government has secured the release of Zainab Aliyu, who was arrested in Saudi Arabia for alleged drug trafficking. Read more »
InFocus
President Muhammadu Buhari has asked Minister of Justice Abubakar Malami to intervene in the case of Zainab Aliyu who has been detained by Saudi Arabia authorities. Aliyu ... Read more »