Rwanda Urges Uganda to Release Its Citizens Held There Illegally
Nyagatare District Mayor Claudian Mushabe has asked Ugandans to stop illegally detaining Rwandans, as they handed over the body of a Rwandan who was reportedly killed as part of normal security and law enforcement exercise. He said that it was sad Rwandan officials were receiving a dead body of a Rwandan when those who are still alive are still languishing in jail.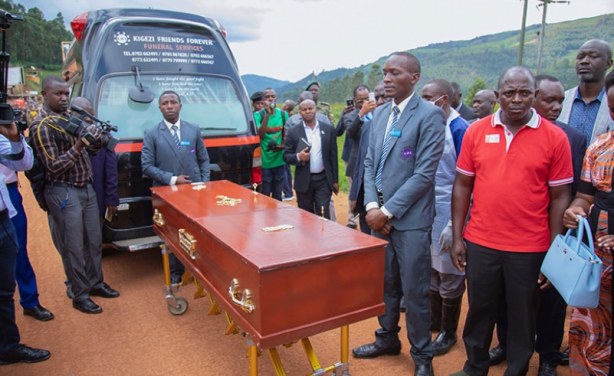 Joseph Singirankabo (in red t-shirt), a relative to the man who was killed in Tabagwe Sector in Nyagatare District after he resisted arrest. His body was delivered by Ugandan officials including an area legislator at Gatuna Border Post on May 27, 2019.
Rwanda: More Rwandans "Abducted" in Uganda

New Times, 27 May 2019

Two Rwandan nationals were Sunday abducted by Uganda's Chieftaincy of Military Intelligence from a village where they had gone to attend a friend's party across the border, the… Read more »

Uganda: UPDF Colonel Arrested Over Spying for Rwanda

Monitor, 29 May 2019

The Uganda People's Defence Forces has arrested one of its senior officers to help in the ongoing investigations into allegations of spying for Rwanda. Read more »

Uganda: Kigali Writes to Uganda Over Arrested Rwandan 'Spies'

Monitor, 29 May 2019

The Rwanda government has written to Uganda's Ministry of Foreign Affairs demanding to know the whereabouts of their two nationals, who were arrested in Rukiga District at the… Read more »

Rwanda: Ugandan Army Abducted My Only Child - Rwandan Mother

New Times, 27 May 2019

Laurencia Mukagatera,a resident of Tabagwe Sector, Nyagatare District, has accused the Ugandan army of abducting her only child in September last year. Read more »

Uganda: Uganda Arrests 2 Rwandan Nationals Over 'Espionage'

Monitor, 28 May 2019

Uganda's security operatives have arrested two Rwandan nationals alleged to have entered the country illegally to gather intelligence. Read more »
InFocus
About 100 Rwandans are reportedly being detained and denied outside communication, violating international obligations which allow foreigners detained access to consular services ... Read more »

Police have secretly repatriated 11 suspected Rwandan spies who disguised themselves as refugees, in the process helping them to evade prosecution in Uganda, Minister for Relief, ... Read more »

Uganda's President Yoweri Museveni has downplayed reports of tension between his country and Rwanda. Speaking at a joint press conference with President Paul Kagame at State House ... Read more »