Somalia Hits Back, Bars Officials From Nairobi Meetings
The Somali government has avenged the 'embarassment' of its three senior Somali officials that were refused entry visas in Nairobi while travelling to attend the EU-sponsored cross-border conflict management programme in Nairobi, despite holding diplomatic passports. The Somali government has also given non-governmental organisations operating in Somalia one month's notice to relocate their centres to Mogadishu or be barred from operating there.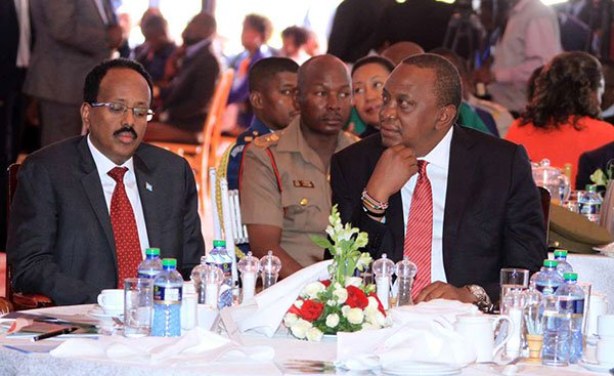 Presidents Mohamed Abdullahi Mohamed Farmaajo of Somalia and Kenya's Uhuru Kenyatta at the national prayer breakfast held at Safari Park Hotel in Nairobi on May 31, 2018.
InFocus
Kenyan officials at the Jomo Kenyatta International Airport have stopped the junior Minister of Water and Energy Osman Libah and legislators Ilyas Ali Hassan and Zamzam Dahir ... Read more »

Foreign Ministers of both countries have expressed a strong desire to "normalise relations" with an agreement to allow their respective ambassadors to return to their diplomatic ... Read more »

Ethiopia has stepped in to help resolve the latest diplomatic row between Kenya and Somalia over a triangle of disputed maritime territory in the Indian Ocean. Read more »