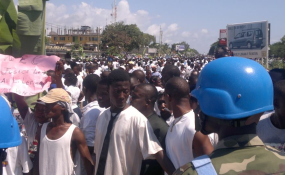 Photo: AllAfrica
Monrovia — Clashes broke out in Monrovia Monday afternoon between protesters and police in riot gear at the headquarters of the opposition Congress for Democratic Change (CDC).
CDC partisans had gathered earlier during the day for what they say would have been a peaceful march, aimed at urging their partisans to stay away front of Tuesday's run-off polls in the Liberian presidential election.
The government said that demonstrators did not have a permit for such a gathering. Liberian officials also noted that all campaign activities were to have come to a close on Sunday.
The fracas started when the police, backed by United Nation peacekeeping troops, tried to prevent hundreds of CDC protesters from leaving the party's compound to fill Tubman Boulevard, the main street in front of CDC headquarters - which is itself only a few hundred meters from the residence of President Ellen Johnson Sirleaf.
Observers said the crowd became rowdy, trying to break through a police defence, while also throwing stones. Some local radio stations reported that the police responded by firing teargas and live rounds, resulting in three deaths. But the deaths have not been confirmed.
Winston Tubman, the party's flag bearer, and other party executives who were present, appeared unable to contain their supporters. However, the CDC condemned the police for using excessive force against "peaceful protestors." The streets of Monrovia are becoming deserted with shop owners closing down businesses and office closing early. Callers to local radio stations have been urging calm.
Tubman and some of his party executives claimed "massive fraud," in favor of the President Sirleaf in the first round of the elections.
International and local observers have all acclaimed the process to be free fair and transparent.
The United States, Ecowas - the west African community, and the African Union, all praised the process, strongly calling on the CDC to rescind their boycott plans. Before today's clashes, regional and African leaders had warned Liberian politicians against inflammatory rethoric, threatening to hold accountable persons who disrupt the peace.
With the situation in the city quieting down now, it is unclear what effect today's fracas will have on Tuesday's run-off elections