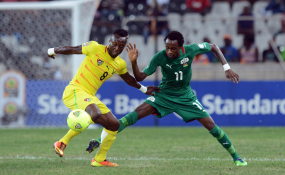 Photo: Sydney Mahlangu/BackpagePix
By Nick Said
Before this edition of the Africa Cup of Nations started, few would have put money on either Burkina Faso or Togo reaching the semi-finals..
But one of these sides will advance to the Last Four following their quarter-final meeting in Nelspruit on Sunday. And if it's Togo, they will make more history.
By reaching the quarter-finals for the first time, the Sparrow Hawks have already completed their most successful ever Nations Cup campaign, so it would be an astonishing achievement for them to progress even further.
Talismanic striker Emmanuel Adebayor was not originally going to be part of the campaign, but smoothed things over with the Togolese FA at the eleventh hour. He has been instrumental to his side getting this far, and will be crucial again against the Burkinabe.
"I'm very happy - I'm part of the history. It's a good thing for the country and a good thing for me. We can even go beyond what we think we can do, and I hope now we have a chance to win the cup. We just have to go for it," Adebayor said.
While Adebayor wants his side to "go for it", coach Didier Six is more cautious.
"I'm very happy for the Togolese team and we are looking forward to the quarter-final. It's a big achievement for the nation. But we need to keep our feet on the ground. We've not achieved anything yet, we just need to focus on our match against Burkina Faso," Six said.
Burkina Faso's best finish in the competition is fourth place, achieved when they hosted the competition in 1998. That was the only time they reached the semi-finals. Their coach, the Belgian Paul Put, says they must grasp this rare opportunity.
"I have told my players, it's a moment to write history, maybe this chance will never come again. It's a big achievement to reach this stage. We have drawn mental strength from games against Nigeria and Zambia. We hope for more," Put said.
The coach will be without his star, Alain Traore, injured early on in the 0-0 draw with Zambia that sealed their progression from Group C.
"With Alain we know we have someone who is good on corners and free kicks so we will miss him on that side of his game, but we have to compensate on the other side," Put said. "It will be a difficult game but I think we should continue with the same confidence and we will see what is going to happen."