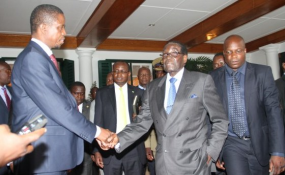 Photo: The Herald
Blog
By Jerry Chifamba
Cape Town — Zambia has attracted some international attention over events that have taken place over a relatively short time. The world's media has in the past found Zambia uninteresting but suddenly paying more attention to the impoverished nation, for all the wrong reasons.
Of course the tension intensified during, and after, the controversial 2016 elections overshadowed by allegations of fraud and unprecedented levels of violence. But the shenanigans started at a crucial moment, just before the polls. A series of events that led to a state of emergency that no one predicted.
Here's a timeline of events leading to the situation Zambia finds itself in now:
July 2016:
The state attacks the independent media, while the official state media remains heavily biased in favour of the incumbent. Post Newspaper is shut down, silencing a voice that was critical of the incumbent regime.
11 August 2016:
Zambians cast their ballots to choose their next president after an election campaign marred by violence and press blackouts. The constitution is enacted with limited consultation with the opposition and civil society, extending the president's powers.
August 15:
Edgar Lungu is declared the election winner.
Hichilema and his opposition United Party for National Development challenge the results in court.
September 2016:
The opposition's legal petition is ultimately thrown out of the Lusaka High Court and Lungu is sworn in.
April 2017:
Hakainde Hichilema is arrested for allegedly obstructing the motorcade of President Edgar Lungu.
April 26:
Hichilema is charged with treason, a non-bailable offence in Zambia, with a minimum jail term of 15 years and a maximum sentence of the death penalty.
May 19:
The United States government and its European Union partners condemn the incarceration of the opposition leader.
June 22:
The Zambia conference of catholic bishops strongly condemns the arrest and treason charge slapped on the opposition leader.
There are reports of violence in parts of the country, including a fire that guts hundreds of shops Kamwala Shopping area.
While the police and fire experts are yet to release their findings, some ruling party officials are speculating that the fire may have been instigated by opposition supporters in retaliation for their leader Hakainde Hichilema's arrest.
President Lungu says he may be forced to declare a state of emergency if his political adversaries continue "daring him".
July 4:
A huge fire guts part of the biggest market in the nation's capital in what the government suspects is an act of arson.
July 5:
Lungu declares a state of emergency in televised speech.
July 7:
Human Rights Watch says Lungu's declaration is aimed at consolidation of his power as it "threatens people's freedoms and rights".
July 8:
Lungu says it was not an easy decision to make but he was left with no choice as the primary responsibility is to protect life and property.