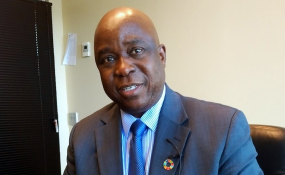 Photo: AllAfrica
interview
The Nigerian embassy in Washington, DC - arguably one of the country's key diplomatic outposts - has an ambassador at the helm for the first time since Professor Adebowale Adefuye died unexpectedly two years ago, after serving as Nigeria's envoy to the United States for five years. Hassan Mohammed Hassan, a career diplomat, took up his assignment last month as deputy chief of mission with the rank of ambassador – more than two years after President Mohammadu Buhari took office.
Hassan previously served in London as minister in charge of industry, trade and investment at Nigeria's High Commission. He is currently the acting ambassador to the United States, pending the arrival of Sylvanus Nsofor, an 82-year old retired judge whose nomination was approved by Nigeria's Senate in June – after a rocky confirmation process. Nsofor is expected to assume his DC posting once his assignment is accepted by the U.S. State Department, which has been slow to act on the request from Abuja. Hassan gave his first interview as acting ambassador to AllAfrica's Reed Kramer.
Let me start with Boko Haram. What was the outcome of discussions in New York last month between President Buhari and leaders from other Chad Basin countries on how to combat the insurgency?
Everyone agreed that the international community needs to provide more support to defeat Boko Haram. They also agreed to increase cooperation. Since he assumed office in 2015, General Buhari has been working closely with Niger, Cameroon and Chad. This multinational effort has given impetus to prosecute the insurgents.
When Buhari came to power, Boko Haram occupied 27 local government authorities (LGAs ], which you call counties here. They hoisted their flags. Nobody could penetrate those areas. Today, they are on the run. They are desperate and confused. They're forcing women and children to be suicide bombers. Boko Haram has been decimated.
This is a huge plus. For ragtag militants to overrun an organized and well-accomplished military is very sad. Adequate resources were not there in the previous administration, and this is why some military officials have been prosecuted. The Buhari administration has made sure the army, the air force and the navy stepped up to the plate. Buhari got them back to the field by providing the resources they needed to prosecute the war.
Now that the Nigerian Armed Forces have captured almost all the territory, huge numbers of the population that fled the fighting are coming back. We now have over two million refugees in camps and some have been going back to their villages.
What is being done to combat the large-scale corruption involving support that was supposed to go to these returnees?
In a situation where people are desperate for basics of livelihood, someone will always try to take advantage. The government is taking action against those who are involved in this corruption at all levels – national, state and local. Some have been jailed, and high-profile officials have been relieved of their positions. Right now, 85 to 90 percent of what is being allocated is getting to the people who need it.
Turning to Nigeria's relationship with United States, as acting ambassador you are dealing with an American administration that is not fully staffed on Africa.
That's true.
Have you been able to engage on the issues that are most important to your government?
I have engaged to the best I can. I've met with officials of the State Department, and I convened a meeting with officials from the State Department and from Immigration and Customs Enforcement (ICE), along with Nigerian consular officials from New York and Atlanta – to address U.S. concerns related to immigration. We addressed those concerns with specifics, and it was very productive.
Generally, the relationship between Nigeria and United States is very cordial. The U.S. government is assisting us militarily and advising us pertaining to security issues. The congressional delegation that recently visited Nigeria led by [Christopher] Senator Coons [of the Senate Foreign Relations Committee] went to the northeast to assess the situation there.
In New York, while President Buhari was at the United Nations, our foreign minister [Geoffrey Onyeama] met with the U.S. Undersecretary of State, Tom Shannon, and that went very well. The United States has allocated additional assistance for humanitarian relief.
The Pentagon has approved the sale 12 Super Tucano A-29 planes and weapons worth U.S.$593 million to Nigeria for to be used to fight Boko Haram. Is that sale moving forward?

It's not concluded, but it is moving forward. There are still some more steps that have to be concluded.
How would you evaluate President Buhari's visit to the United Nations?
Everyone could see that General Buhari has recovered very well from his health challenges. He delivered a strong message [to the General Assembly] that covered many areas and was well-received. He thanked the international community for assisting Nigeria in the challenges facing us at the moment, and he briefed the world on how we are overcoming those challenges. He took part in a meeting between African presidents and prime ministers and President Donald J. Trump of the United States and also a meeting with the Secretary General [of the United Nations].
Has Nigeria gotten the support you need from the United States on anti-corruption efforts?
They're being very helpful. President Donald J. Trump personally commended our President for his anti-corruption move. I believe more will be forthcoming. Nigeria really needs those stolen funds.
Nigeria also needs to revive its economy. How is the government doing on that?
General Buhari came [to office] at a time when our major income earner, oil, plummeted from $130 to $30 per gallon, and it's a huge, huge gap. Under his leadership, the government is trying to diversify the economy. Take for example rice: we used to import billions of dollars of rice. Now we are producing 70 to 80 percent of our local requirement. By 2019, Nigeria will be self-sufficient in rice. The same approach has been taken on all agricultural produce.
The Buhari administration is keeping its promises to revive the economy, fight terrorism and crackdown against corruption. Some ministers from the previous administration that were engaged in corruption are being investigated. Ill-gotten resources have been seized. Whistle-blowers are coming forward and exposing those that have stolen money.
What are the prospects for maintaining a unified Nigeria when you have - not only the Boko Haram insurgency in the northeast - but also the spread of pro-Biafra separatist sentiments in the southeast and continuing unrest in the oil-producing Delta region.
For many decades, we have had Igbos (from the southeast) living in the north and west, Hausas living in the south, and Yorubas living in the north and east. Everybody is free to pursue his or her means of livelihood in every nook and cranny of the country, if that livelihood is legitimate. We also have an army that is a mixture of all ethnicities.
The Igbo people have extensive investments across the north – more than they have in their own area. Most do not support secession, and resistance to (Biafran separatist leader) Nnamdi Kanu is coming from the Igbo themselves. Kanu hoisted the separatist flag and fielded an army of youths. He was challenged, and the Nigerian army moved in. This will not succeed.
In the Niger Delta, unrest has calmed down. The government has insisted to the oil companies that they have to invest there, because those people are their hosts. And they have to take care of the environment. The Buhari administration established a commission charged with cleaning up the environment. This is what the people there are asking, and they are very appreciative for what the government is doing.
Nigeria faces many challenges. But it is important to remember: a journey of a hundred miles starts with a single step. I think President Buhari has taken many steps – and he and his government will take many more.