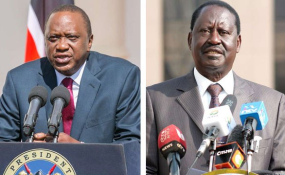 Photo: Daily Nation
Blog
By Sethi Ncube
On 11 August, Independent Electoral and Boundaries Commission (IEBC) Chairman Wafula Chebukati declared Uhuru Kenyatta the winner of the highly contested August 8 presidential race. He was said to have won with 8.2 million votes compared to 6.8 million votes for his closest rival Raila Odinga of the National Super Alliance (Nasa).
However, the incumbent's win was met with criticism, and the opposition disputed the result of the polls - claiming that the IEBC tally system was hacked and that, in some places, election materials were mishandled, leaving them suspicious of the results.
Nasa, after lengthy consultations, took its election objections to the Supreme Court. The Jubilee party was accused of having results from polling stations that Odinga said did not exist and claimed were used to inflate figures in favour of President Kenyatta. Election results forms called Forms 34A and 34B, were missing according to the opposition, and used that to argue that the results that the IEBC was streaming were unverified and therefore illegal.
On September 1, a six-judge bench, by majority decision, found that the IEBC failed to conduct the polls according to the Constitution and Elections Act. The polls agency ordered to conduct fresh presidential elections within strict confines of the law within 60 days.
Since then it has been a war of words between Kenyatta and Odinga, but that is nothing new for the country's political scene. Kenyatta and his deputy William Ruto have reportedly threatened to "deal with" the Judiciary should they be re-elected in an election. This has encouraged Jubilee members to threaten and organise protests against Supreme Court judges. Kenyatta has always been vocal about having people inciting violence punished, and this was quite an about-turn.
Kenyatta's presidential qualities have since been questioned. It has been argued that Kenyatta's tantrums scream entitlement. Judging from his reaction to the Supreme Court judgment, he thinks he should be president despite the ruling.
One can be forgiven for thinking Kenyatta is not confident that he will win the repeat poll from his outbursts. If he knows that he won the first round fairly, he has nothing to fear. Jubilee members are already saying Kenyatta will be sworn in for a second term on November 1 if Odinga boycotts the repeat presidential poll. Should Odinga have his doubts about the country holding the repeat poll on October 26, this should be resolved amicably and a new date that all parties are satisfied with should be set.
Following Odinga's announcement that he won't be contesting in the October 26 poll, Kenyatta or other Jubilee leaders have not shown any leadership by taking initiative to arrange dialogue with the opposition to pave a way forward, or bring about solutions to Odinga's grievances. Instead Kenyatta has welcomed Odinga's reported plan to withdraw. Kenyatta was quoted saying "Kenyans are tired and want to move forward. If you do not want elections, step aside so that the country can move forward."
Over 33 poll protestors have reportedly been killed by police following the August 8 poll. President Kenyatta and his deputy have not paid any special attention to this bloodshed, toddlers, school children and other innocent bystanders have also been killed in the process. Had it been Jubilee protestors being brutalised the same way, will the ruling be equally silent?
Raila Odinga recently announced that he's quitting the presidential race and will not be running in the repeat election, much to the disappointment of Nasa supporters who have been with the party through the failed elections to protests calling for the removal of IEBC officials. "After deliberating on our position in respect of the upcoming election, considering the interests of the people of Kenya, the region and the world at large, we believe that all will be best served by Nasa vacating its presidential candidature in the election scheduled for 26 October 2017," said Odinga.
While campaigning in Kakamega County, Odinga called President Uhuru Kenyatta as an unworthy candidate, and described his opponent as "desperate". He also lashed out as western Kenya leaders who have endorsed the Jubilee candidate's re-election, calling them "tumbocrats" (political party defectors). He criticised the Jubilee administration for calling for change of electoral laws and refusing his party's involvement in discussions about the change.
The views reflected here do not reflect those of allAfrica.com.