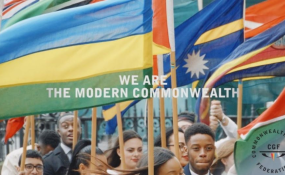 Photo: CGF
Cape Town — More than 50 Ghanaians trying to gain entry to Australia have been deported from the country.
Australian authorities were "not convinced that some of the Ghanaians who purport to go and cover the Commonwealth Games intend to return to Ghana after the games".
The deportees, apparently pretending to be sport journalists, were caught out after they were unable to answer basic questions about sports, and were not carrying the necessary reporting equipment.
The government has initiated an investigation into the deportation.
Ghana Journalists' Association Distances Itself From Those Deported From Commonwealth Games - Statement below:
It has come to the notice of the National Executive of the Ghana Journalists Association (GJA) that about 50 people purporting to be Ghanaian journalists are being deported from Australia ahead of the 2018 Commonwealth Games scheduled to begin in that country today, April 4, 2018.
According to reports, the Australian authorities were not convinced about the mission of the purported journalists in that country because although they claimed to be journalists and had genuine visas, many of them did not carry the recommended equipment for the coverage of such a sporting event.
The GJA wishes to put on record that it does not know the identity of the so-called journalists; neither is it aware of their mission in Australia. Although Ghanaian journalists travelling outside the country for official events are not obliged to inform the GJA about their assignments, it is quite strange that the GJA is not aware of the identity of the deportees, including the media institutions they claim to represent.
The GJA notes that the deportation of the alleged journalists from Australia has the tendency to soil the image of Ghanaian journalists in particular and Ghana as a whole. For that reason, we call on the Ministry of Foreign Affairs, the police and other relevant institutions to thoroughly investigate the matter in order to establish the true identity of the deportees for the purposes of redeeming the image of Ghana and Ghanaian journalists.
The GJA wishes to take this opportunity to advise Ghanaian journalists travelling outside the country for official assignments to follow the requisite protocols of their host countries and the event organisers in order to avoid embarrassment. Furthermore, they may seek the assistance of the GJA to facilitate their assignments.
Affail Monney (President)