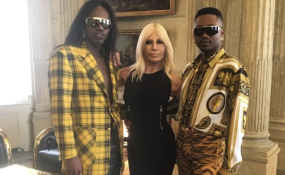 Photo: Instagram
Cape Town — While world-renowned designer Donatella Versace's guests for her Versace SS19 menswear show in Milan entered, they were treated to the sounds of Bottoms Revenge: Ibutho Lamakhosazana by South Africa's FAKA.
And it wasn't only their music playing at the Milan show, Donatella had flown Fela Gucci and Desire Marea to Italy to sit in the front row. But wait there's more ... Uyang'khumbula by FAKA was the soundtrack to the main show.
Let's rewind.
News of the iconic pair, famous for their non-binary style, travelling to Milan spread quickly after Desire Marea first tweeted: "We about to board this flight to Milan and I don't know how to act. Please reply with video of Wendy Williams asking is she's gonna cry."
And then later: "OMG Kendall and Bella Hadid were walking to Uyang'khumbula on the runway at the Versace show... The gag".
Before the Versace, the pair visited Donatella at Gianni Versace's home, saying she had told them "the whole show today is about our music".
And then went on to post a photo on her Instagram, saying "The music from today's show was from the super FEARLESS @felagucci & @desiremarea!! ⚡️⚡️ Thank you guys! 💋💋".