Washington, DC — H.E. Filipe Nyusi, President of Mozambique delivered the opening remarks.
During a fireside chat moderated by Bill Killeen, Acrow Bridge, President Nyusi discussed the impact of COVID-19 on Mozambique's economy and emphasized the importance of having a collaborative approach to address the pandemic. The President also emphasized the importance of infrastructure and partnering with U.S. companies to meet Mozambique's needs.
image
Panel Discussion on Economic and Health Innovations in Response to COVID-19

During the discussion moderated by Witney Schneidman, Covington and Burling LLP, panelists highlighted innovative solutions by U.S. and African government and private sector partners; the digital transformation in Africa due to COVID-19; the urgent need to build critical healthcare infrastructure; the need to mobilize molecular labs and increase testing; the need for an increased supply of medical commodities locally; the importance of the AfCFTA to health systems in Africa; the need for blended finance; and the importance of the U.S.-Africa partnership in post-COVID recovery.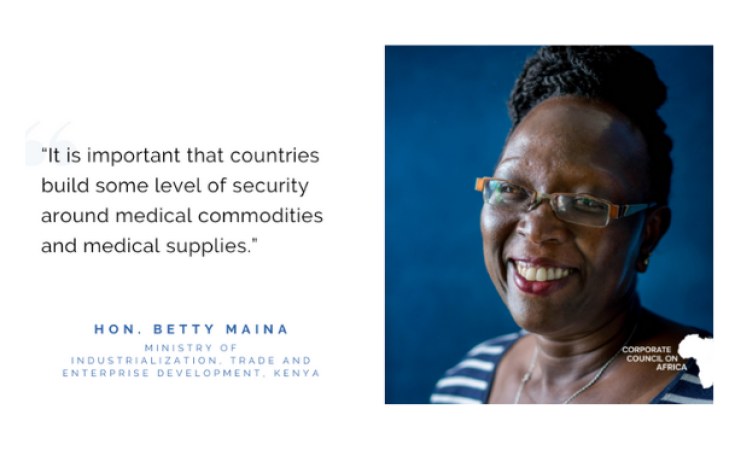 Watch the Full Panel Discussion Here
READ: First Day Spotlights the Global Financial Response to COVID-19 in Africa

ABOUT THE CCA LEADERS FORUM

The CCA Leaders Forum is a high-level virtual forum taking place over four days to bring together Heads of State, senior USG and African government officials, CEOs and private sector executives, and leaders from multilateral institutions. The Forum provides an important platform and opportunity to explore various aspects of resilient U.S.-Africa business engagement that will shape and drive post-COVID-19 recovery.
Register Now

Sponsors
Acrow Bridge
Afrotourism West Africa Limited
Caterpillar Inc.
Citi
Covington & Burling LLP
Creative Associates International
Development Finance International, Inc.
Flutterwave Inc
General Electric
Lockheed Martin International
P&G
Rabin Martin
Visa
Media Partners
AllAfrica Global Media
APO Group