Tension as Gbagbo, Ouattara Sworn in
The Constitutional Council has overturned the poll result announced by the nation's electoral commission and declared President Laurent Gbagbo the winner of Sunday's election.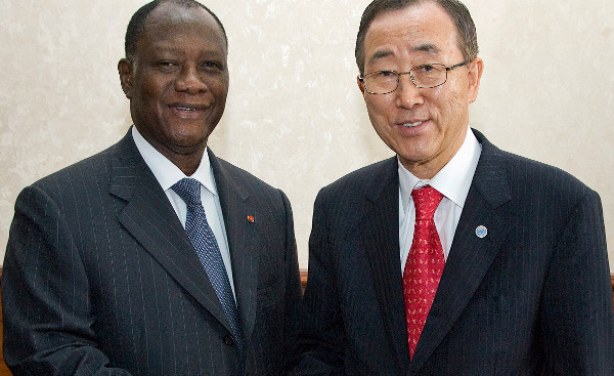 Opposition candidate Alassane Ouattara, left, with UN Secretary-General Ban Ki-moon in 2008. The electoral commission said Ouattara won Sunday's poll with 54 percent of the vote, but the Constitutional Council overturned the result.
Cote d'Ivoire: Gbagbo Sworn-in, Ouattara Swears Himself in

RFI, 4 December 2010

Alassane Ouattara sworn himself in as Cote d'Ivoire new president on Saturday following Laurent Gbagbo's official swearing-in ceremony. Read more »

Cote d'Ivoire: Continued Tension in Abidjan

RFI, 4 December 2010

There was gunfire in Abidjan on Saturday as tension escalated following the standoff between Alassane Ouattara and Laurent Gbagbo, the contenders in Cote d'Ivoire's presidential… Read more »

Cote d'Ivoire: Fear, Mayhem as Officials Reverse Poll Results

UNIRIN, 3 December 2010

People across Abidjan shuttered shops and offices and rushed home fearing violence after the Constitutional Council on 3 December declared Laurent Gbagbo winner of Côte… Read more »

Cote d'Ivoire: Constitutional Council Overturns Poll Result, Declares Gbagbo Winner

allAfrica, 3 December 2010

Cote d'Ivoire's Constitutional Council has overturned poll results announced by the nation's electoral commission and declared President Laurent Gbagbo the winner Sunday's… Read more »

Cote d'Ivoire: Ouattara Claims Victory as Gbagbo Backlash Mounts

RFI, 3 December 2010

Backed by the United Nations and the European Union, Côte d'Ivoire opposition leader Alassane Ouattara on Friday night declared himself president-elect. The move comes amid a… Read more »

Cote d'Ivoire: Religious Leaders Appeal for Peace

CISA, 3 December 2010

Religious leaders in Ivory Coast are appealing for all the political parties in the country to honour the results of presidential elections. Read more »

Cote d'Ivoire: Army Shuts Borders Amid Worry That Gbagbo Won't Quit Post

RFI, 3 December 2010

The military in Côte d'Ivoire said Thursday that they have closed the country's land, sea and air borders to all movement of goods and people. Read more »

Cote d'Ivoire: Election Chaos Keeps Ivoirians on Edge

UNIRIN, 2 December 2010

More than a month after a long-overdue presidential election, Ivoirians still do not know who their president is, trapped in a post-election limbo marked by violence, the tearing… Read more »

Cote d'Ivoire: Constitutional Council Rejects Ouattara's Win

RFI, 2 December 2010

The Constitutional Council has rejected an announcement naming presidential candidate Alassane Ouattara as the winner of Côte d'Ivoire's elections. Earlier, the electoral… Read more »