Polio - The Last One Percent
Led by The Bill and Melinda Gates Foundation, the fight against polio is 99 percent of the way towards complete eradication. For those who live with the disease, breakdancer B-Boy Junior of the Democratic Republic of Congo, is an inspiration.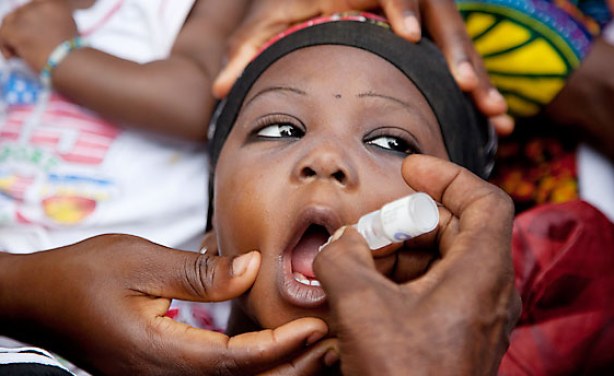 Those leading the fight against polio have urged continued vigilance against the disease. Sporadic outbreaks have occurred this year in a number of African countries, including the Democratic Republic of Congo and, just last week, Angola.
Nigeria: Polio Survivor Helps Others With Mobility

allAfrica, 3 November 2011

Although Ayuba Gufwan, 39, is a deeply religious man, he has not accepted his fate in life sitting down. Instead, he has taken matters into his own hands and made it his life's… Read more »

Nigeria: Polio Eradication - Jigawa, Bedeviled By Non-Compliances

Daily Trust, 1 November 2011

With a four times increase in polio cases from 8 cases in 2010 to 34 cases in 2011, and states like Kano, Jigawa, Borno and Kebbi identified as high risk areas, the federal… Read more »

Nigeria: FG Increases Polio Funding to N4.8 Billion Annually

Daily Trust, 31 October 2011

President Goodluck Jonathan has announced that Nigeria will increase its contribution to polio eradication efforts from N2.7bn Naira in 2011 to N4.8bn Naira per year, beginning in… Read more »

Africa: Gates Foundation and Partners Mark 2011 World Polio Day

Gates Foundation, 21 October 2011

On this year's World Polio Day (October 24, 2011), the Bill & Melinda Gates Foundation and a global community of partners are calling for increased commitment and greater… Read more »

Nigeria: Making Every Child Count On World Polio Day

Vanguard, 24 October 2011

TODAY is World Polio Day. It is a day set aside globally to assess the significance and success of the oral polio vaccine, OPV. It is also a day the world spotlights the importance… Read more »

Nigeria: The Race to End Polio - Challenges and Gaps to Close

Daily Trust, 25 October 2011

With barely 14 months to the deadline for the eradication of poliomyelitis globally and especially Nigeria by 2012, stakeholders have tighten their belt to ensure that resurgence… Read more »
Video
Publisher:

Publication Date:

24 September 2011

Help Rotary's End Polio Now polio eradication efforts. see more »
Nigeria: Jonathan Increases Anti-Polio Funding to N4.8 Billion

Leadership, 30 October 2011

As part of measures to eradicate polio in Nigeria, President Goodluck Jonathan has announced that Nigeria will increase its contribution to polio eradication efforts from 2.7… Read more »

Nigeria: Global Leaders Pledge to Fight Polio

Vanguard, 29 October 2011

World leaders Saturday added their weight to a push to eradicate polio, pledging millions of dollars in new funds to bring an end to the crippling and potentially fatal disease. Read more »

Nigeria: Why Polio Cases Resurfaced - Dr. Yahaya

Daily Trust, 25 October 2011

Etsu of Shonga in Edu local government area of Kwara State, Dr. Haliru Yahaya is the chairman of the board of the National Primary Health Care Development Agency (NPHCDA). In this… Read more »

Ghana: 240,000 Children to Receive Vaccination Against Polio

Ghanaian Chronicle, 28 October 2011

The Upper East Region, on Thursday October 27, joined the rest of the country in the on-going National Immunisation Day against Polio, with over 240,000 children below five… Read more »

Nigeria: We Must Step up Commitment Towards Eradicating Polio - Amaechi

Vanguard, 24 October 2011

Over the last few years, Nigeria has made significant progress toward eradicating polio, a devastating disease that continues to threaten our children with lifelong paralysis and… Read more »

Nigeria: Polio - the Task Ahead

Leadership, 24 October 2011

Over the last few years, Nigeria has made significant progress toward eradicating polio, a devastating disease that continues to threaten our children with lifelong paralysis and… Read more »