Africa: Tea Research Key to a Growing Industry
Pelly Malebe's research on helping plants withstand drought is personal as well as scientific. She grew up in South Africa's drought-prone northern province of Limpopo, where crop failures are frequent.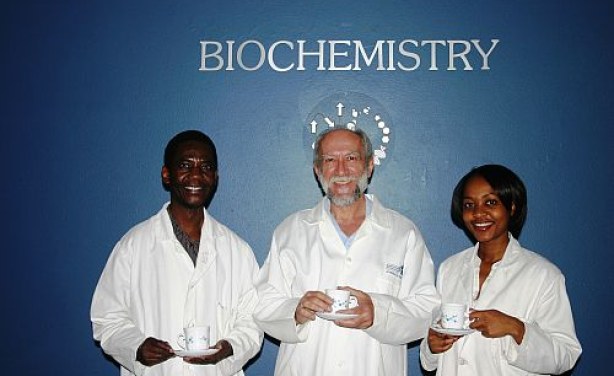 Pelly Malebe drinking tea with Professor Zeno Apostolides and fellow researcher Nick Mphangwe.
Africa: Tea Research Key to a Growing Industry

allAfrica, 12 December 2011

Pelly Malebe's research on helping plants withstand drought is personal as well as scientific. She grew up in South Africa's drought-prone northern province of Limpopo, where crop… Read more »

Africa: Solving Problems Through Science - A Conversation with Phillip Griffiths

allAfrica, 12 December 2011

Economies across Africa have continued to expand this year, attracting increased interest from investors, along with prospects for jobs for the large numbers of unemployed young… Read more »

Uganda: Can a New Tea Stave Off Malaria?

RISE, 16 November 2009

Patrick Engeu Ogwang grew up in the small town of Soroti, in eastern Uganda, where malaria was (and still is) endemic. He, like most of the townspeople, was accustomed to malaria… Read more »

Malawi: A Better Cuppa Tea for Malawi

RISE, 6 May 2009

Nicholas Mphangwe, known to his friends as Nick, works as a plant breeder for the Tea Research Foundation of Central Africa, in Malawi. Tea is critical to the Malawian economy,… Read more »