Malaria - Keeping a Crafty Killer on the Run
Imagine that snake attacks were killing a person a minute. Or that it was dogs, or foxes or chickens that were killing three-quarters of a million people a year. Envision the non-stop media coverage - and the public outcry to stop the carnage. Instead, the mass killer is the mosquito, weighing in at 2.4 milligrams, about the same as two human eyelashes, and capable of transmitting malaria. Today, on World Malaria Day, as on any given day, an estimated 3,000 children will die of malaria -- most of them before their fifth birthday.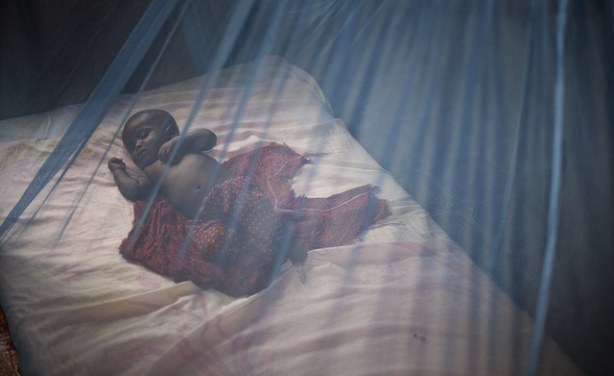 A child lies under a mosquito net in Somalia.
Nigeria: Battling Malaria Without Drugs or Knowledge

allAfrica, 26 April 2013

The statistics are shocking. Over 300,000 Nigerians die from malaria each year – more than in any other country. An estimated 250,000 are children younger than five. Read more »

Africa: Malaria in Liberia - 'The Struggle Continues'

allAfrica, 25 April 2013

I woke up feeling the headache and chills, and made a couple of trips to the bathroom to ease the nausea. The experience was all too familiar; I was having another bout of malaria,… Read more »

Africa: Malaria Care Improves With Cash

allAfrica, 25 April 2013

A question had been nagging at Ghanaian researcher Alexander Nartey. Read more »

Africa: Malaria: The Bigger Picture

Global Fund, 23 April 2013

When in the year 2000 African leaders first decided to put a Malaria Day on the calendar of the world, the ravages of malaria were barely visible to global decision-makers in… Read more »

Africa: World Malaria Day - Sustaining Success and Saving Lives

ExxonMobil, 25 April 2013

Malaria is preventable, treatable and curable. Yet it continues to have a devastating impact across Africa. For more than a decade, ExxonMobil has been working to help drive… Read more »

Africa: Exxonmobil Marks World Malaria Day

ExxonMobil, 24 April 2013

On the eve of World Malaria Day, ExxonMobil announced its next round of ExxonMobil Foundation grants to organizations working hard to combat malaria. Read more »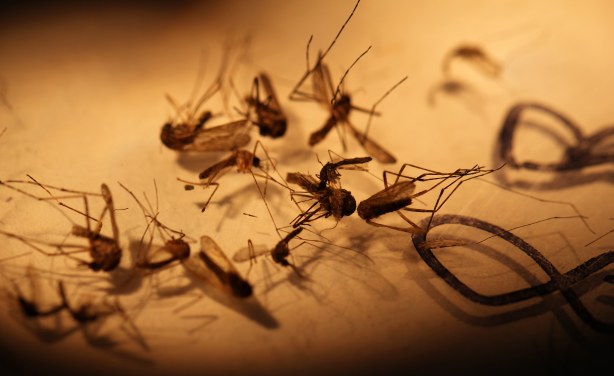 Mosquitoes.
Africa: Here I Am - Sir Richard Feachem On "Shrinking the Malaria Map"

Global Fund, 22 April 2013

Since 2000, over 1 million lives have been saved from malaria. This World Malaria Day (April 25th) is an opportunity to pause and reflect on the gains that have been made and how… Read more »

Africa: Global Fund Says Malaria Can Be Defeated

Global Fund, 24 April 2013

The Global Fund to Fight AIDS, Tuberculosis and Malaria said today that new advances in science and implementation have given the global community the opportunity to control… Read more »

Zimbabwe: National Malaria Incidence Drops

The Herald, 24 April 2013

The national malaria incidence has significantly dropped from 13,5 percent in 2000 to 2,2 percent last year, a senior official in the Health and Child Welfare Ministry has said. Read more »

Tanzania: WHO for Intensified War Against Malaria

Daily News, 24 April 2013

AS the world celebrates Malaria Day on Thursday, African countries have been reminded over the need to increase efforts to combat the pandemic. Currently only one fifth of the… Read more »

Liberia: President Sirleaf Issues World Malaria Day Proclamation

New Dawn, 24 April 2013

President Ellen Johnson Sirleaf has issued a Proclamation declaring Thursday, April 25, 2013 as World Malaria Day to be observed throughout the Republic as a Working Holiday. Read more »

Congo-Kinshasa: Malaria Remains Endemic in DRC

RFI, 24 April 2013

April 25 is World Malaria Day, a day designed to highlight a disease that continues to kill almost 700,000 people around the world every year. Most of the deaths occur in young… Read more »

Africa: West Africa Malaria Task Force Gets Going

State Department, 23 April 2013

During a symposium hosted by U.S. Africa Command in 2011, five East African nations' militaries came up with an idea to address their common malaria challenges together. The idea… Read more »
InFocus
The Malaria Control and Evaluation Partnership in Africa has teamed up with the government and other organizations to dole out mosquito nets, distribute insecticide and deploy ... Read more »