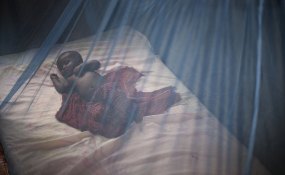 Photo: UN Foundation
By Ruby Leo and Judd Leonard Okafor
Idris Omale makes his living, as a barber at a barbing salon in Mararaba, Nasarawa State. He doesn't own the salon where he's been working since being deported from Libya last year.
His income--whatever is left of the proceeds after remitting N400 each daily and N1,000 on weekend to the salon owner--places him in a group loosely categorised as "average Nigerian".
Omale last had malaria in February, he remembers. "I took Panadol, but the pains didn't go away. So I took very strong 'hot' [local generic name for bottled gin] and it disappeared."
His relief lasted only days before his illness returned full in force and "knocked me down", he says. "I had to see a doctor friend."
Treating his condition costs on average N950, according to government surveys, but he would later spend more than N1000 for a complete dose of artemisinin-based anti-malaria his doctor prescribed.
He spends much more than money. Millions of Nigerians without health insurance pay out of their pockets for their healthcare, a proportion estimated at more than 75%.
On a national scale, malaria costs the country more than N480 billion in lost manpower, treatment and care needs, the national coordinator of National Malaria Control Programme (NMCP), Dr Nnenne Ezeigwe said recently in an interview with Daily Trust.
For Omale, the cost is more personal. His family depends on what he makes daily. Each day he stayed home with malaria, he lost daily wage at the barbing salon.
He complains about spending more than a day's wage on his medicine because there is "no price control" to keep the cost of anti malaria down.
Unfortunately this episode would repeat itself: he doesn't take any medicine to prevent malaria and has not slept under a mosquito net since his children damaged the one the family used.
But he is sure where his next bout of malaria might come from. "There's no way it can be eradicated. Look around. Dirt, refuse everywhere--unclean environment, waste, the mosquitoes are all over the country."
Everyone has it
Malaria is a staple for anyone living in Africa, says Amaka Chukwu. "Every Nigerian treats malaria nearly every other day," she says. "It is only the acute cases that go to hospital."
Before going to hospital, most people with malaria try to treat the condition by themselves, using anti malarias bought over the counter at pharmacies, chemists and from informal drug vendors--an open market that ranges from anything from drug sellers on a bus to hawkers peddling drugs in basins gingerly balanced on their heads. Chemists and patent medicine vendors are the first point of treatment for 57% of Nigerians.
Dr Nicholas Baamlong, consultant family physician at University of Abuja Teaching Hospital, say, "The tendency is that rather than wasting my time coming to see a doctor and wasting the whole day, let me just go to a chemist and say, 'look I have fever, headache', and the next thing they give you malaria drugs."
The lure toward self medication comes from not just cost but the inconveniences of visiting a hospital. On any day, the general outpatient department at University of Abuja Teaching Hospital sees up to 280 patients. Nearly half of all patients coming to hospital daily are suspected cases of malaria, according to doctors.
The hours of waiting to see a doctor means many never come to hospital, resorting to self medication for themselves and their loved ones, including children. It cuts waiting time, but not the cost.
"Sometimes, you buy these drugs and by the time the child has been absent from school for two, three, four days, before you start coming to hospital. That absenteeism continues and the period it takes to treat before the child resumes. All these are losses," says Dr Baamlong.
Difficult battle
Anyone self-medicating for malaria is hoping to get rid of the symptoms that come with the disease. Even doctors sometimes rely on treating symptoms.
This, according to NMCP coordinator, Dr Ezeigwe is one of the difficult aspect of controlling the disease.
She said, "Our greatest worry is that most physicians treat without testing, it is not all fevers that are malaria, and we are very concerned that when all fevers or symptoms are treated with ACT (Artemisinin combination Therapy) we could have started resistance to malaria and right now that is the only approved mode of treatment. This approach of treating without testing would spell disaster for us".
Meanwhile Dr Baamlong defending why most physicians treat without bothering to test said, "Most of the time, because of inadequacies in our laboratories, reagents, you might not get an accurate result that will show you this is malaria. You can only get that in a very little percentage. But the presumptive diagnosis, clinical signs and symptoms, points to the fact that a lot of people are coming in with malaria. Surprisingly too when you place them on treatment they get well".
Unfortunately, the parasite responsible for malaria--Plasmodium falciparum--has become smart over the years, evolving to become resistant to chloroquine--a strong antimalarial until recently.
For ages, malaria was treated with chloroquine. In the last couple of decades, combination therapies based on artemisinin have emerged as more effective, after resistance to chloroquine was discovered.
And it has made Nigeria's battle with malaria difficult. More than 30% of the global malaria burden is in Africa, and Nigeria accounts for a quarter. The most recent Malaria Indicator Survey estimates malaria prevalence at 42%, affecting children under age five more than any other population. Ironically, the prevalence increases with age but decreases with wealth.
The global scientific community's rule of thumb is straightforward: with diseases caused by viruses, vaccination is the target; but disease caused by organisms other than viruses might potentially be treatable. However, the onslaught of malaria has made it worthwhile to consider a vaccine.
The ACT front
With the silver bullet promised by a vaccine, national programmes fall back on treatment. In policy, the choice is artemisinin combination therapy but chloroquine, found 15 times cheaper than ACT, is still in wide use, says Prof Oladimeji Oladepo of Health Promotion and Education Department at University of Ibadan.
Since its introduction, use of ACT has exceeded use of drugs as quinine and amodiaquine. But it still lags behind sulphadoxine-pyrimethamine combinations and choloroquine.
For every case of malaria treated with ACT, two are treated with SP combo and more than four with chloroquine. The pressure is to ensure effective treatment is available. Global health groups are still divided over the issue: whether to put drugs in the hands of individuals, risking misuse and buildup of resistance that's rendered chloroquine suspect or whether to leave drugs in the hands of trained help, risking further distance from women and children who need the drugs.
Oladepo, after studies by the African Media and Malaria Research Network, sees disconnect between policy and what happens in the field. He believes Nigeria is better off using its wide network of patent medicine vendors (PMV) at community levels where it could combine treatment and prevention. Patent medicine vendors, with training, could even monitor compliance to standards, he opines.
"Part of what we want to do is to combine government regulation with patent medicine vendor's owned- internal regulatory mechanism for drugs. It works better than that of government and with PMV members playing a leading role, their members will comply with agreed standards. We have actually gone far by actually discussing this with the PMV; in fact they have written letters stating that they want to see this type of regulatory partnership," Oladepo says.
Some 12.5 million doses of artemisinin combination therapy have gone through public health facilities. Another 39.4 million doses have been administered through the Affordable Medicines Facility for Malaria (AMFM), a programme to expand access to antimalarial drugs through public, private and nongovernmental organisations.
This article was produced by Daily Trust for AllAfrica, in partnership with the Institute of Development Studies.The Carnegie Corporation of New York is a contributor to AllAfrica's reporting on the role of science education for development.