Will Guinea Be Africa's Next Narco State?
With its West African neighbour, Guinea Bissau, already holding the dubious title of 'narco-state', analysts say that Latin American cocaine traders are moving in significant numbers to Guinea-Conakry.


Guinea: Will Country Be Africa's Next Narco State?

African Arguments, 6 August 2013

This is one of the questions posed by David E. Brown, a career American diplomat, in his report "The Challenge of Drug Trafficking To Democratic Governance and Human Security in… Read more »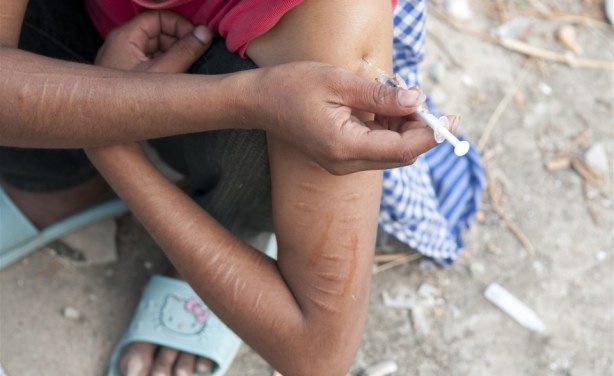 An addict injects drugs.
West Africa: Stopping West African Drug Trafficking

African Arguments, 19 October 2012

Everyone working on drugs in Africa should read Neil Carrier and Gernot Klantschnig's short but insightful new book, Africa and the War on Drugs. Read more »

Guinea Bissau: Cocaine-Related Graft Erodes Governance

UNIRIN, 10 June 2013

Drug-trafficking in Guinea-Bissau is undermining the country's stability, distorting its economy and intensifying the competition for power among political and military leaders,… Read more »

Guinea Bissau: U.S. Charges Coup Leader With Trafficking

Deutsche Welle, 19 April 2013

The US has charged the coup leader of Guinea-Bissau with drug trafficking and seeking to sell arms to Colombian rebels. Antonio Indjai is now the eighth person accused in the… Read more »

Guinea Bissau: Former Navy Chief Na Tchuto Arrested as 'Drug Kingpin'

allAfrica, 5 April 2013

The former chief of the navy in Guinea-Bissau was arrested and is being transferred to the U.S., according to BBC News. Read more »

West Africa: UN, Interpol Meet on Organized Crime in Region

UN News, 13 February 2012

Transnational organized crime in West Africa, including illicit drug trafficking and the proliferation of illegal arms, as well as maritime piracy, dominated discussions today… Read more »
InFocus
U.S Embassy cables dispatched from Conakry in 2008 suggested that former President Lansana Conte's son was heavily involved the the drugs trade, and that after a cocaine shipment ... Read more »

The country's former navy chief, Jose Americo Bubo Na Tchuto, regarded as a drug kingpin, was arrested on international waters and is being transferred to the United States, ... Read more »