African Fans in World Cup Frenzy
Fireworks are expected as the World Cup kicks off in Brazil with fans of the 32 participating nations bracing for the world's most popular sporting event. The continent has five teams in the running - and Cameroon is first up against Croatia on June 13.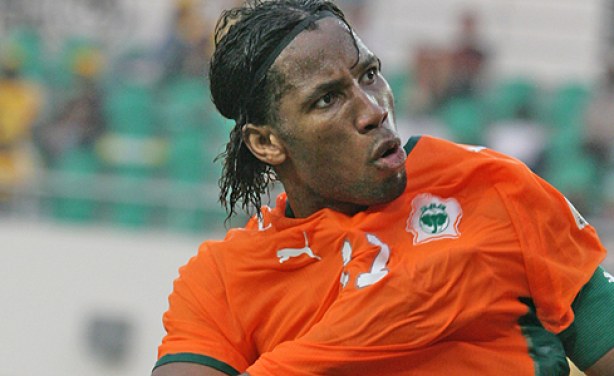 Didier Drogba, 36, is an Ivorian professional footballer who plays as a Striker for Galatasaray in the Süper Lig. He is captain and all-time top scorer of the Ivory Coast national team, and this ...
Nigeria: World Cup 2014... The D-Day Is Here! Let the Samba Dance Begin

This Day, 12 June 2014

Sixty-four years after Brazil first hosted the FIFA World Cup and lost in the final to Uruguay, the Beautiful Game has returned to the Samba country that can rightly be called the… Read more »

Africa: Brazil Dominate Croatia 3-1 in the Opener

Africa Top Sports, 13 June 2014

The whole Brazil can rejoice! The Selecao have successfully entered the World Cup on Thursday by dominating Croatia in the opener. Final score 3-1. Read more »

Rwanda: Soccer Fans in World Cup Frenzy

New Times, 11 June 2014

Receptions of pay television service providers were buzzing with football fans yesterday as hundreds thronged to buy television or digital decoders in a festive mood ahead of the… Read more »

Kenya: You'll Watch World Cup in Peace, Kimaiyo Assures

Capital FM, 11 June 2014

Inspector General of Police David Kimaiyo has assured football fans of their safety as they gather around bars and other social places to watch the World Cup which kicks off on… Read more »

Nigeria: World Cup 2014 - Rousing Welcome for Eagles in Brazil

Vanguard, 12 June 2014

The Super Eagles arrived Sao Paulo, Brazil on Tuesday night at about 10:40pm to a rousing welcome from Miami, United States, where they equally got a rousing send forth from staff… Read more »

Africa: The 2014 World Cup - Brazil's Moment to Shine or to Reflect?

New Times, 11 June 2014

Today is kick-off of the 20th Fifa World Cup, an international men only football tournament that is scheduled to take place in Brazil from June 12 to July 13. Read more »

Rwanda: World Cup Is Here, Are You Ready?

New Times, 11 June 2014

THE 2014 Fifa World Cup kicks off this evening in Brazil, so are you ready for the biggest football extravaganza on the planet? Read more »

Nigeria: Adamawa Bans Football Viewing Centres

Vanguard, 11 June 2014

Yola - The Adamawa Government has banned the operation of football viewing centres indefinitely in the state. Read more »

Rwanda: Tigo Rwanda Launches World Cup Crazy Fans Campaign

New Times, 10 June 2014

TIGO RWANDA has launched a 'Tigo's crazy fans campaign' aimed at giving its customers access to coverage of the Brazil World Cup finals slated for June 12th to July 13th. Read more »
Kids from a poor neighbourhood in Yaounde, Cameroon's capital, kick around a football.
InFocus
All the African sides are fielding players who ply their trade in the top leagues of Europe, so if one of them can get on a roll, one feels any has the potential to go deep into ... Read more »

Cameroon's hit-and-miss record recently, with good performances followed immediately by bad, makes them an unpredictable opponent at the World Cup in Brazil, writes Nick Said for ... Read more »