AU Issues Ultimatum to Burkina Faso Leaders
The African Union has set a timeframe for the transfer of power to civilian authorities, threatening to target the country's economy if it doesn't comply.
Burkina Faso: African Union Issues Ultimatum

Deutsche Welle, 3 November 2014

Burkina Faso's military must return the country to civilian rule within the next two weeks or face sanctions, the African Union has said. The interim president promised a… Read more »

Burkina Faso: African Union Calls for Civilian Rule

Algerie Presse Service, 2 November 2014

The African Union (AU) called Saturday for "civil and consensual" transition in Burkina Faso, after President Blaise Compaoré stepped down. Read more »

Burkina Faso: U.S. Calls for Respect of Democratic Process

State Department, 31 October 2014

Press Statement by Jen Psaki, Department Spokesperson in Washington, DC, October 31, 2014: Read more »

Rwanda: Banned By Burning

New Times, 2 November 2014

This week in Burkina Faso, congress 'annoyed the people' and the people chose to 'ban' parliamentary building by burning. Could this be an example of an African solution to an… Read more »
InFocus
Army leaders in Ouagadougou announced that Lieutenant-Colonel Yacouba Issaac Zida will run the country during a transitional period, as former president Blaise Compaore and his ... Read more »

Another military officer, Isaac Zida, has announced he is assuming responsibility as the country's head of state. Read more »

Troops fired shots in the air outside Burkina Faso's state broadcaster before taking the building over. Protesters on the streets, the African Union and the United States are all ... Read more »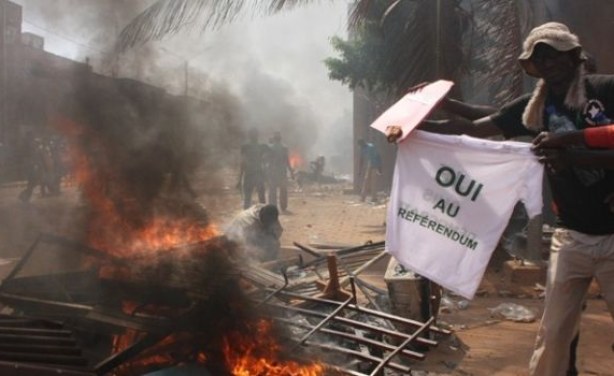 A protester burns a T-shirt supporting a referendum on constitutional changes to allow the president to stand for re-election in 2015 (file photo).